HTC makes an infographic to detail the Android update process
22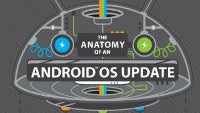 Everyone who has ever owned an Android device has formed an opinion about the software update process on the platform, regardless of how well that person may fully understand the process itself. HTC wants to make things a bit more transparent and has put together a pretty cool infographic that breaks down the software update process from start to finish.
The infographic offers a basic step-by-step look at how a software update is created for carrier branded devices, unlocked/developer devices, and Google Play devices. HTC splits up the process into 5 stages. Stage Zero is Evaluation, which covers Google releasing a new platform development kit, announcing a new version of the software, and releasing the source code to chipset manufacturers and device makers. Stage One is Development, where chipset makers and device manufacturers create new drivers and software based on the new Android update. Stage Two brings Integration where carrier software and manufacturer skins are added. Stage Three is Testing/Certification, where the new software is deemed stable enough for release. Last is Stage Four where the new software is pushed to the customer.
HTC has even added a way to track updates on a new landing page, so we can get an idea of how long each stage will take. From what we've seen with Motorola's Moto X, it seems like the two big delays are manufacturer skins and carrier software (we assume it was the carrier software that delayed the update for the new DROIDs), and HTC's new landing page seems to confirm that. Right now, the page lists the Android 4.4 updates for the Unlocked, Developer, and Google Play Edition HTC Ones as "completed", while the carrier branded models are still on the "Integration" stage.