HTC's blockchain smartphone is on track for 2018 release
5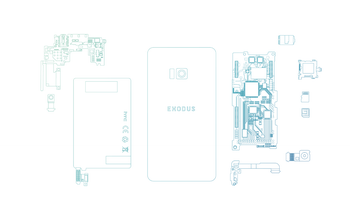 Despite
lackluster sales
and
disappointing financial results
, HTC hasn't given up on making
new flagship phones
and has even kept the lights on for one of its arguably less important projects: Exodus, the blockchain enabled smartphone. There hasn't been any news about it a while, so if this is the first time you're hearing about it, you might be wondering "What the hell is a blockchain smartphone?".
In short, it's a smartphone that's specialized in cryptocurrency transactions. Looking to break away from the established financial practices, as the name itself suggests, the Exodus is for those interested in the decentralized world of virtual currencies like Bitcoin and Ethereum. The phone's software will be based on Android, but with added security protocols and apps meant to handle the necessary encryption for safe handling of your precious coins.
While there's still no information about the internals of the device, besides the fact that it will have dedicated storage for your crypto wallets, the man in charge of the project, Phil Chen, said that preorders for the new phone are expected to start as soon as next month. This means, of course, that the official announcement will be in October as well. However, to actually get their hands on the new device, crypto enthusiasts will have to wait until December, when shipments are expected to start. This leads us to believe that we should expect the Exodus to be announced towards the end of October.
A niche product like a blockchain smartphone is unlikely to bring HTC major financial gains, but it's good to see that the company is investing in projects that are straying away from the beaten path. We're impatient to see exactly what the Exodus will offer.