HTC axed its mini smartphone line because of your love for phablets
26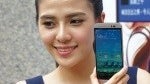 If you ever caught yourself lusting after a "mini" version of the HTC One M9, it might be time to give up the dream. According to a report by Focus Taiwan, HTC North Asia president Jack Tong said the company has axed its "mini" product line, as it considers it out of fashion with the industry's trends.
Mr. Tong pronounced the "mini" HTC phone dead at the
HTC One M9+
's launch event in Taiwan, proclaiming the industry is moving towards smartphones with screens sized 5 inches by diagonal or more, and the company has adjusted its roadmap accordingly. In other words, expect HTC's mid and low-range products to grow up in screen size really soon. The premonition is already on its way to fulfilment, as HTC's latest budget offering is the 5.5-inch dual-sim
One E9+
.
Anyway, the mini line's demise is just another nail in the coffin of the "compact smartphone", rendered into the state of a niche device by bigger, badder phablets. But who knows, maybe a hand size-conscious manufacturer will find a way to make no-compromise phones like the Sony Xperia Compact series universally cool again!
Another nail in compact smartphones' coffin.
As far as "mini" phones are concerned, HTC still has the
One mini
and
One mini 2
to offer. These are lower-priced smartphones that mostly look the part of their bigger cousins, but certainly don't feel as nice. The One M9+, though, is a specs-intensive revision of HTC's 2015 hero phone, made to satiate the Asian market's prevalent interest in the absolute high-end of mobile hardware. Whereas the regular One M9 has a 1080p display, the M9+ rocks a 1440x2560 resolution screen, and its octa-core MediaTek chip that's in place of Qualcomm's Snapdragon 810 SoC provides, generally, the same top-tier performance. Another worthy upgrade in the One M9+ is the fingerprint sensor inside its home button.
This impressive spec sheet has been influenced by Taiwanese carriers' demands, the target result being a version of the One M9 flagship that's even more competitive in the fast-paced Asian market. According to HTC, demand for the One M9+ in Taiwan is already "slightly better" than for the M9.
source:
Focus Taiwan