HTC antagonizes Samsung and Apple in the U.K.
49
Well, well, well. You have to give HTC's staff in the U.K. some points for taking shots at two of the OEM's rivals. The shots were taken on the HTC U.K. Facebook page last week, just before Christmas. The actual quote is based on a glowing review of the
HTC One
by Esquire magazine. But the staff running the HTC U.K. social networking site decided to throw in a couple of comments aimed at Samsung and Apple, in parenthesis.
No doubt that the HTC One was the early rival to the
Samsung Galaxy S4
. While the latter
sold 10 million units in its first month
, HTC's flagship device
was rumored to sell 5 million in its first month
, despite an issue with supply.
"Not just the best Android phone on the market (take that, Samsung), the HTC One is widely acknowledged as the best-designed Smartphone ever (in your face Apple!)"
-Esquire, with HTC U.K. comments in parenthesis
Since then, both models have seen sales drop off and HTC added both the
HTC One mini
and the phablet-sized
HTC One max
. Samsung, for its part, added a few variations to the Galaxy S4 including a rugged model, and a camera-centric version. As for Apple, the
Apple iPhone 5s
became another phone standing in the HTC One's way when launched in September. We should point out that we happen to agree with Esquire (and ironically, HTC U.K., since it seemed to fear the iPhone 5s design the most) as
the two phones that we picked as having the best design for 2013
were the HTC One and the Apple iPhone 5s.
Both HTC and Samsung are said to be working on sequels to their respective flagship models with the
HTC One 2
and the
Samsung Galaxy S5
respectively. And while both models will no doubt battle for supremacy of the smartphone world along with Apple's next offering, HTC U.K. is happy now to get its two rivals stirred up. What is that phrase about letting sleeping dogs lie?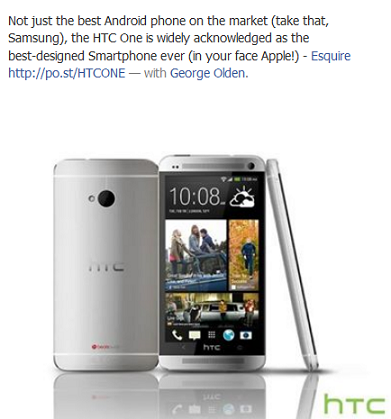 HTC U.K. takes on Samsung and Apple
Thanks, Anonymous Tipster!
source:
HTCU.K.