HTC Windows Phone 8X shipping on November 8, according to Amazon UK
3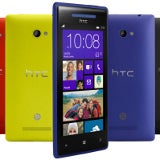 We really like the updates that Microsoft has made to its Windows Phone 8, and with such spectacular devices like Nokia's and HTC's upcoming offerings, we're certainly looking forward to giving it a more in-depth look.
But as excited as one can be, we're perfectly aware that it's not easy to be waiting for something which is expected to come out in early November, especially when there are such awesome devices one can buy right now. And by the looks of it, none of the Windows Phone manufacturers will be allowed to launch its products earlier than that, at least judging by Amazon UK's page dedicated to the HTC Windows Phone 8X. According to it, the handset will ship on November 8 - what a disaster! (They told us we should be a bit more dramatic...) Well, only because Amazon's page says so doesn't mean that it's 100% correct, but it's pretty close to previous expectations.
On top of that, Amazon UK has also posted that insane price of... how much did you guess? F? A thousand? Even more? No, it's just £531.43 (about $863) unlocked! Incredible value, right? Interestingly enough,
Clove has also posted a price
for the handset, which seems to be a bit more reasonable - about $650. Well, we guess we'll see who's right in about a month or so.
source:
Amazon
via:
WPCentral