HTC Vivid hands-on
13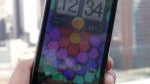 Since the beginning of the year, AT&T has sat on the sidelines as Verizon aggressively rolled out its 4G LTE network – and along with that, a slew of smartphones were introduced at CES to show off their expansive endeavor. Thankfully, AT&T has realized the infinite possibilities with LTE, now that they've recently started to roll out their own 4G LTE network in very small pockets around the country. With that in mind, they've also
recently introduced the HTC Vivid
– one of their first smartphones to feature
4G LTE connectivity
.
Right off the bat, we're reminded about the original HTC EVO 4G when holding and playing around with the
HTC Vivid
– since it utilizes some of those characteristic traits from the EVO 4G. However, what's especially nice about the Vivid, is that its overall size and footprint
doesn't
increase – even though it's packing a larger display. Rather than finding a unibody design of some sort, the HTC Vivid opts to mostly use a plastic shell that's strengthened by a stainless steel back cover. Fortunately, it doesn't look or feel as intimidating, seeing that we're able to grasp it with relative ease – albeit, there's some weight to it.
Staring straight in front of us, the handset's
4.5" qHD S-LCD display
is profoundly distinguished by its deep color reproduction – however, it's rather
weak
with its brightness output. Nevertheless, it exudes plenty of sharp details, but more importantly, the bezel around its display is reduced enough to keep its size relatively close to past HTC smartphones with 4.3" displays.
Internally, the handset is powered by
1.2GHz dual-core Qualcomm Snapdragon APQ8060 processor
with 1GB of RAM. Honestly, its speed doesn't seem to be any better or faster than other recent smartphones of late. Moreover, it's AT&T's first smartphone to feature HTC's Sense 3.0 UI running on top of Android 2.3.4 Gingerbread – so yeah, there's plenty of personalization with this one.
Finally, the most alluring thing with the HTC Vivid besides its 4G LTE connectivity, is the
8-megapixel auto-focus camera
in the rear. Frankly, it's going to appeal to a lot of photo buffs since it features an f/2.2 28mm wide-angle lens, dual-LED flash, and ability to shoot full
1080p videos at 60 frames per second
! And of course, there's pricing, which is uber competitive at
$199.99 with a 2-year contract
. Amazingly, with this 4G LTE capable smartphone, we see a different trend in pricing from what's going on with Verizon's offerings.
Expect our in-depth review soon!