HTC U Ultra is announced: premium smartphone with sapphire glass, secondary display, AI companion built in
52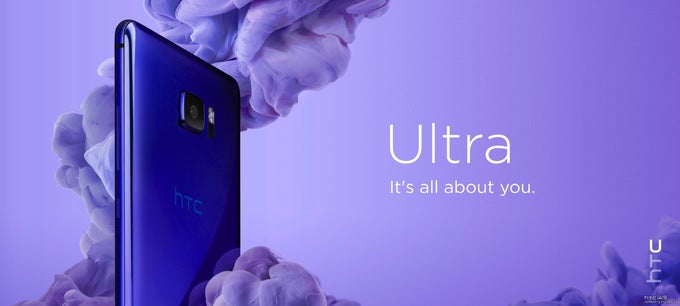 At a media event held in its homeland of Taiwan, HTC announced a brand new phone – a brand new phone inspired by you and made for you. The name of this new phone is HTC U Ultra and it is part of the company's new U series. Another member of the lineup –
the smaller, 5.2-inch HTC U Play
– was also shown at the event.
Design: Liquid Surface reflections meet sapphire glass display protection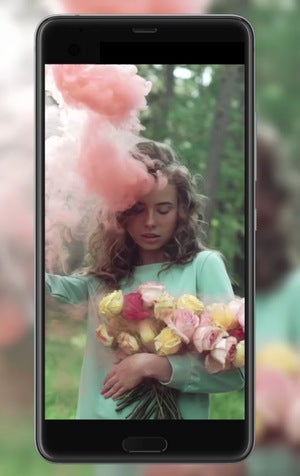 The HTC U Ultra has a 5.7-inch main display. Sapphire glass protection costs extra.
While it was never referred to as a flagship during the presentation, the HTC U Ultra packs a number of flagship-worthy features making it stand out in terms of design and functionality. Among them is the sapphire cover glass utilized on the device – a rarity among non-exotic smartphones. Sapphire is known for its extreme resistance to scratching, which is why it is used on premium watches and those diamond-encrusted Vertu handsets. There's just one catch, however: it was clarified that sapphire glass protection will come only on a limited edition HTC U Ultra, which will be made available later this year. The regular U Ultra will come with Gorilla Glass 5 protecting its screen.
Speaking of the screen, it measures 5.7-inches in diagonal and has a resolution of 1440x2560 pixels for super-sharp images. HTC clarifies that the panel is of the Super LCD 5 variety, meaning that it should look a lot like the one on the HTC 10.
To stand out of the crowd, the HTC U Ultra sports what it calls Liquid Surface. In other words, the phone employs an all-glass design with highly reflective surfaces. Interestingly, the coat of paint is applied
underneath
the glass layer in order to create a different look, all while preserving the vivid color. And now that I've mentioned colors, the phone will be available in four colors: blue, pink, white, and what appears to be a very dark shade of green.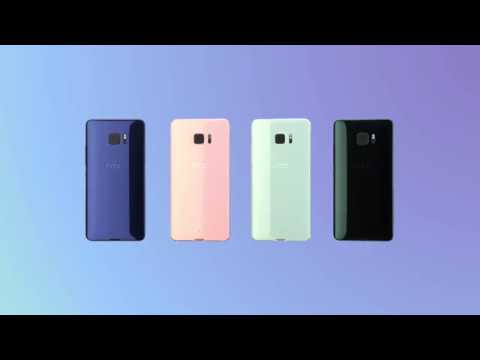 Meet HTC Sense Companion – your personal AI assistant
As was pointed out during the presentation, the HTC Ultra has a secondary display on top. It is there to deliver app and system notifications, as well as on-time alerts provided by HTC's own AI assistant feature. The latter – named HTC Sense Companion – is deeply integrated in HTC's software and collects data from the user over time. That is done to provide assistance, alerts, and suggestions proactively. In other words, imagine that you have a meeting set for the afternoon. HTC's assistant will advise you to leave early if bad traffic is expected or suggest you to bring an umbrella if weather is about to worsen. The more you use HTC Sense Companion, the better it should become at helping you throughout the day.
Functionally speaking, the secondary screen also appears to act similarly to the one on the LG V20. Images on HTC's web site suggest that it can hold shortcuts to favorite apps and contacts, but we're pretty sure that's not all it can be used for. On a technical note, the screen is 2.05 inches in size, with resolution of 160x1040 pixels.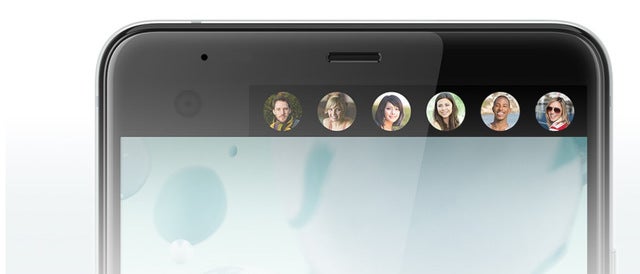 The HTC U Ultra boasts a secondary display
HTC USonic: sound tailored to your ears
Another noteworthy feature of the HTC U Ultra is USonic – an audio function that adapts the phone's audio reproduction to the user's ears. This appears to be identical to
what the HTC Bolt does with its bundled earphones
. In a nutshell, the earphones provided with the U Ultra utilize an ultrasonic beam to scan the internal structure of the user's ear. Then a personalized profile is created – not unlike an advanced equalizer – and is then applied to the audio being played. In other words, sound is matched to the user's ears and hearing for a superior experience.
Unfortunately, it seems that the U Ultra lacks a 3.5mm jack. The stock earphones plug into its USB Type-C port instead, and according to HTC's web site, a USB to 3.5mm adapter is not included in the box.
Another disappointment is the lack of front-facing stereo speakers. Instead, the HTC U Ultra takes the BoomSound Hi-Fi approach we first heard on the HTC 10, where a bottom speaker reproduces the lower frequencies while the highs come out of the earpiece.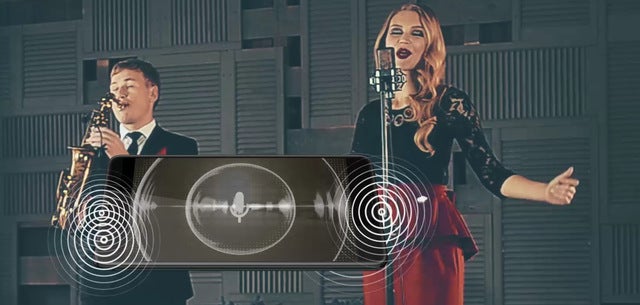 The HTC U Ultra promises high-fidelity audio recording
But that's enough about audio reproduction. What about sound recording? The HTC U Ultra is equipped with 4 high-quality, always-on, low-power microphones. Of course, they're there to record high-resolution spacial sound in your videos, but that's not their only purpose. The HTC U Ultra features biometric voice unlock, meaning that it can be unlocked by recognizing your voice. You know, in case your hands are occupied or you just don't feel like using the built-in fingerprint scanner.
HTC Camera: as good as we know it
About the camera on the U Ultra, HTC did not go into technical or functional details during the event. However, the main shooter appears to be similar to (if not the same as) the one used on the HTC 10. Nothing wrong with that, as the HTC 10 takes great shots. Trust us – we know that from experience. In terms of specs, the HTC U Ultra's main cam packs 12MP of resolution and 1.55um pixels, phase-detection autofocus and laser focusing combo, OIS, aperture of F1.8, and scratch-resistant sapphire lens cover. And like it or not, the camera module protrudes quite a lot, but all of that camera gear has to be packed in there somehow.
Meanwhile, the front camera on the HTC U Ultra boasts wide viewing angles, which allows more people to fit into the frame. Resolution of 16MP paired with HTC's UltraPixel tech will hopefully result in clear selfies. Curiously, the camera lets you switch between full-resolution, 16MP mode and 4MP UltraPixel mode with enhanced light sensitivity.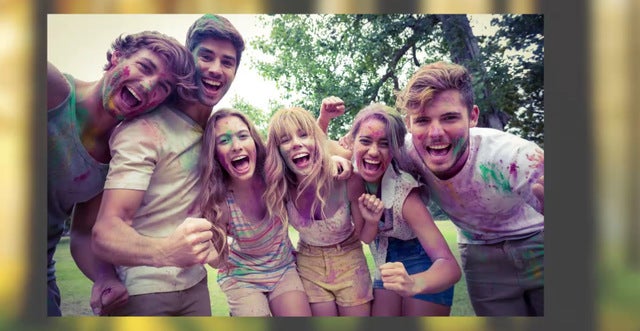 The HTC U Ultra can fit plenty of people in a selfie
Getting technical: HTC U Ultra specs, processor, battery, software
Of course, I must go over the technical details of the HTC U Ultra, as that's the hardware and software that makes it work. Under its hood you'll find a 2.15GHz Snapdragon 821 SoC, paired with 4GB of RAM – a chip combo that also powers the Google Pixel. Unlike the Pixel, however, the U Ultra allows its 64GB of storage to be expanded with a microSD card. Flex storage is supported, meaning that the microSD card can be set to behave as native storage. Neat!
The battery inside the HTC U Ultra is rated at 3000mAh and supports Quick Charge 3.0 – not bad, although a bit more capacity would have been more appropriate for a phone of this class.
And on the software side of things, the HTC U Ultra runs on Android 7.0 Nougat. Of course, HTC's own custom interface is layered on top of it, meaning that all the software goodies we know from the HTC 10 have likely been transferred onto it.
HTC U Ultra price and release date
As I mentioned above, the HTC U Ultra was never called a flagship during the presentation, yet the price it carries puts it among the most expensive phones on the market. Unlocked, the phone will cost you $749, with shipping within the US set to begin in March. Naturally, the limited edition U Ultra with sapphire glass screen cover will cost you extra. Pre-orders are now live at HTC's web site.
Recommended Stories