HTC ThunderBolt price on Amazon slashed to $179
8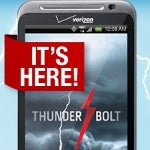 After a couple of delays and a lengthywait for the first 4G handset on Verizon's speedy LTE network,it is finally here. The HTC ThunderBolt supports blazing fast speeds,but its $249 price tag might be a bitter pill to swallow as mosthigh-end phones sell for $199 or less with a 2-year contract. But howabout $179? Amazon slashed the price for the ThunderBolt tothat exact amount, even less than the $199 deal at online retailerWirefly.
Should you get it then? Not before youget informed about just how good it is, so check-out our first lookat the device, as well as all the rigorous testing we threw its wayto see the ThunderBolt strike speed tests with the whopping more than 6Mpbs on the downlink. Now that's more like 4G, right?
Thanks, Luca and Nadege!