Some HTC ThunderBolt units have a hot battery, overheating an issue
53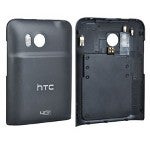 It's not a secret that the battery life of the
HTC ThunderBolt
is not the device's strong side, but now a few reports (including some guys mailing us) have emerged that some ThunderBolt units are plagued with a heating problem, i.e. the battery is getting really, really hot.
Of course, smartphones are powerful gadgets and it's not something unheard of people to have heating problems on their smart handsets, and yet some folks report that their HTC ThunderBolts are regularly overheating while standing idle, which is concerning indeed.
It's claimed that swapping the stock battery with an extended one doesn't solve the problem, and the same applies to the various battery saving tips that are widely available on the web. One lad even says that he went to Verizon, received a brand new HTC ThunderBolt and the same problem occurred after a few days of use.
We didn't experience any heat-related problems during our time with the HTC ThunderBolt, but it seems this issue is real and is plaguing some units of this powerful phone. As of now no cure is available, but if you have the same problem or have managed to overcome it, share your experience with the community - it doesn't hurt to know how many people actually experience it, and who knows - we, together, may even a find a way to sort it out.