HTC ThunderBolt delayed to maximize Verizon iPhone 4 sales?
53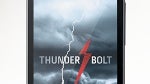 If you have followed the news aroundVerizon's 4G LTE launch, you can't have missed the HTC ThunderBolt –a signature device for Big Red's high-speed network. But the initialexpectations for a February 14th launch didn't come true as theThunderbolt was delayed for no apparent reason. A tipster confirmedthat the device will be launched on February 24th, butinterestingly enough suggested that the delay was due to Verizon'siPhone 4 roll-out.


How so? Verizon's
Worry Free
exchangeperiod amounts to 14 days. The subtle connection seems to link thelaunch of the Verizon iPhone on the 10th and the roll-out of the HTCThunderBolt on the 24th of February.
Exactly14 days
. This means that users who got the iPhone on day one whensales are usually highest will not be ableto return it without paying a charge or exchange it for aThunderBolt. We leave to you to judge just how credible this couldbe, but it definitely gives an interesting view on the carrier'stiming, doesn't it?
Thanks, anonymous!