HTC Sense 4.0 leaks out: simplified, better typography, top-notch email and Dropbox integration
21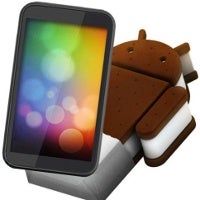 The
HTC Sense
is probably the one skin that stands out the most on Android - with its huge clock and distinct looks it makes HTC devices instantly recognizable. And now the newest version has leaked out - HTC Sense 4.0 in its non-final version ended up in the hands of PocketNow, who say it will likely arrive on upcoming HTC devices like the HTC Ville and the HTC Edge.
But it's also one of the heaviest skins for Android - others like Samsung's TouchWiz and even Motorola's Motoblur are usually lighter. HTC has also recently added HTC Watch and Listen to its skin, making it seem even more obtrusive in Sense 3.5.
The new version, 4.0, is a step towards eliminating those problems -
less visual junk on the screen and better typography
are the measures taken. The new skin will finally support landscape mode and when you flip your phone to that mode, the tabs will appear on the right rather than at the bottom to save space. The old-fashioned bubbly menus will also change to match ICS's simplistic looks - sliders will be gray and the buttons will come with rounded edges.
Interestingly,
HTC won't comply with the on-screen keys
in ICS, and its devices will continue shipping with buttons on them rather than on the display. Instead of the four keys typical until ICS, though, they'd arrive with only three buttons.
Another novely is the
task switcher
which has turned into a 3D view of cards, deemed not very practical. You'd also get lock screen notifications like on iOS 5, and the lock screen will allow you to pull down the notification shade without unlocking.
Additionally, the
mail client
has been overhauled to possibly "the best-looking and most functional email client available for Android." The browser comes with an additional Reader feature and has also been polished.
The new HTC Sense
integrates deeper with Dropbox
and bundled with the 50GB of free cloud storage available there that's a good thing. Overall, it seems like the new HTC Sense 4.0 is definitely an exciting new skin on top of Android (for those who like skins, that is). While there are no pictures to prove it just yet, there's just a month before MWC kicks off in Barcelona, where it should make its official debut so stay tuned.