HTC Runnymede may be called the Sensation XL
9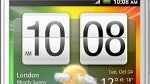 You remember that monster sized Android-powered phone from HTC that
has leaked
several times over the course of the last few weeks, the HTC Runnymede? Once it becomes official it may actually be called the Sensation XL.
The Runnymede/Senation XL is a beast of a device. It is going to feature a
4.7-inch display
like its Windows Phone counterpart the HTC Titan. Powering the device is a single-core
1.5GHz processor
. It is also going to be another one of the new devices to feature HTC's latest acquisition Beats Audio on board. There had been a rumor going around that the Runnymede would be rebranded the HTC Bass once it hit retail shelves, but that is no longer the case.
Calling it the Sensation is a bit odd considering how different it is from the other Sensation branded devices currently offered by HTC. The recently released Sensation XE also features the Beats Audio software as well as the Android operating system, but comparisons end there for the most part.
There is always a chance that this rumor is incorrect, just as the prior rumor about it being called the HTC Bass was. With the upcoming media event on October 7, expect any questions you have regarding the smartphone formerly known as the Runnymede to be answered.
source:
PocketNow