HTC Raider 4G LTE heading up north to Bell and Rogers
6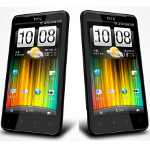 The
first LTE enabled handset expected to be available for AT&T
will supposedly be the HTC Holiday. But when not getting ready to offer fast data speeds to the few AT&T customers who have access to the carrier's LTE pipeline, the phone will go by the name of the
HTC Raider 4G LTE
up in Canada for Bell. Designated for the Canadian mobile operator's Superphone category, the device will cost you $169.95 with the customary signed three-year contract up north. Without a contract, the price tag is a hefty $499.95. No launch date has been mentioned.
2.3
is aboard with HTC Sense running on top. Besides Bell, the HTC Raider 4G LTE will also be launched by Rogers in Canada for a price of $149.99 with a signed 3-year pact.
Sounds like we will soon be hearing about a beast making its way through the frozen north. Unlike the abominable snowman, this one will be spotted being held up to human ears.
source:
MobileSyrup