HTC One mini 2 vs One mini vs Galaxy S4 mini specs comparison
4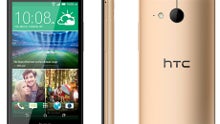 Lo and behold, that "mini" craze has caught up with manufacturers indeed, and it's almost a given now that once a flagship is launched, a miniaturized version of it, riding on the coattails of the larger sibling's name recognition, will appear in a month or two. HTC is no exception now, and we are pitting the just-announced
One mini 2
against last year's
One mini
, and throwing in the current
Samsung S4 "mini"
warrior for a good measure, despite that the
S5 mini
is probably just around the corner, too.
What you can clearly see from the first glimpse at the comparison table below, is that we are dealing with the Snapdragon 400 crowd here. This midrange processor has proven capable to run Android without major hiccups, but might be a bit long in the tooth for, say, the latest 3D games. That's all right, as if you are eyeing a 4.3" or 4.5" handset you probably aren't into the blazing graphics of Asphalt 8 too much anyway. Out of the three, only the S4 mini sports a gig and a half of RAM, whereas the HTC handsets make do with 1 GB, but since we have Android 4.4 KitKat on the phones, the RAM point is somewhat moot.
The biggest upgrades from the One mini to the mini 2 for us are the camera, and the presence of a microSD slot. The 4 MP UltraPixel shooter in the One mini isn't anything spectacular, as it doesn't sport the OIS tech of the larger HTC One, but the 13 MP unit in the One mini 2 is likely the same Sony sensor that has proven itself in most aspiring mid- to high-enders these days already. Add to these niceties the
BoomSound
stereo speakers, 5 MP wide-angle front camera, plus the largest battery of the bunch, and the One mini 2 suddenly becomes a very, very appealing handset. It has the biggest screen in the trio, and a premium aluminum unibody design, too, so the only way HTC can't fight any "mini" thrown its way, is if the price of the mini 2 is uncompetitive.
S-LCD 3
Super AMOLED
S-LCD 2
Ambient light sensor, Proximity sensor
Ambient light sensor, Proximity sensor, Scratch-resistant glass
Ambient light sensor, Proximity sensor
Qualcomm Snapdragon 400
Qualcomm Snapdragon 400 8230
Qualcomm Snapdragon 400
Dual-core, 1400 MHz, Krait
Dual-core, 1700 MHz, Krait 300
Quad-core, 1200 MHz, ARM Cortex-A7
Android (4.4, 4.2.2), HTC Sense UI
Android (4.2.2), Samsung TouchWiz UI
Android (4.4), HTC Sense UI
20.72 hours
the

average

is 11 h (660 min)
20.8 days (500 hours)
the

average

is 29 days (688 h)
13.27 hours
the

average

is 0 h (0 min)
12.00 hours
the

average

is 0 h (0 min)
16.20 hours
the

average

is 0 h (0 min)
28.8 days (692 hours)
the

average

is 0 days (0 h)
12.5 days (300 hours)
the

average

is 0 days (0 h)
23.2 days (556 hours)
the

average

is 0 days (0 h)
12.5 days (300 hours)
the

average

is 20 days (472 h)
Single camera
Single camera
Single camera
4 MP (Autofocus, BSI sensor)
8 MP (Autofocus, CMOS image sensor)
13 MP (Autofocus, BSI sensor)
Aperture size: F2.0; Focal length: 28 mm; Sensor size: 1/3"; Pixel size: 2 μm
Aperture size: F2.2; Sensor size: 1/3"; Pixel size: 1.12 μm
1920x1080 (Full HD)
1920x1080 (Full HD) (30 fps)
1920x1080 (Full HD)
1.6 MP
1.9 MP
5 MP
1280x720 (HD)
1920x1080 (Full HD)
5.20 x 2.49 x 0.36 inches (132 x 63.2 x 9.25 mm)
4.91 x 2.41 x 0.35 inches (124.6 x 61.3 x 8.94 mm)
5.41 x 2.56 x 0.42 inches (137.43 x 65.04 x 10.6 mm)
4.30 oz (122.0 g)
the

average

is 6 oz (171 g)
3.77 oz (107.0 g)
the

average

is 6 oz (171 g)
4.83 oz (137.0 g)
the

average

is 6 oz (171 g)
Back: Aluminum
Back: Metal