HTC One mini 2 Review
18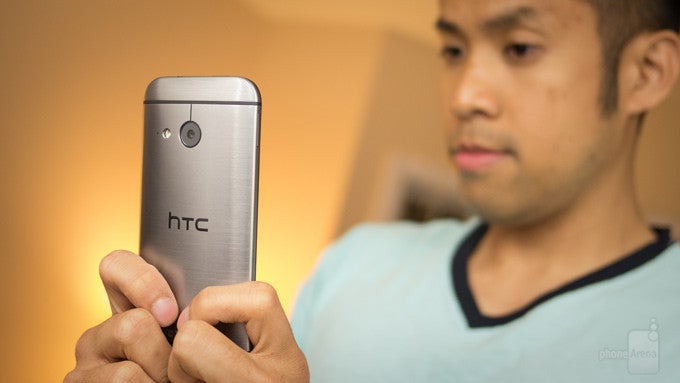 Introduction
Not wasting any time, veteran smartphone maker HTC is quickly launching the very first off-side variant of its beloved flagship in the
HTC One M8
. Coming in with a more form-fitting package, the
HTC One mini 2
is making its splash into the market in a hurry – whereas before, last year's HTC One mini was released significantly later than its prized sibling. In fact, it took HTC nearly 5 whole months to announce the HTC One mini after the
HTC One M7
, so it's a pleasant change to find a more aggressive rollout with this year's model.
In a sea of other "mini" sized smartphones, the HTC One mini 2 delivers the same compact characteristics of its esteemed brethren, but there are some notable changes found with this particular model over the beefier spec'd HTC One M8, which we'll go through in this review. Of course, the addition of this phone helps to marginally spread the diversity of HTC's portfolio for this year. More importantly, though, is that its arrival comes so much closer to the release of the company's flagship – giving consumers that morsel of choice in what to pick out. At the end of the day, will this phone be able to compete against some already established "mini" smartphones floating about?
The package contains:
microUSB cable
Wall charger
Stereo headphones
Design
Smaller in size, there's no compromise seen with the design of the HTC One mini 2 – it's solid, form-fitting, and premium.
Glancing at the phone for the very first time, there's no denying that it's sporting the same lovable updated design we've seen already with the HTC One M8, but in a more form-fitting package. Essentially, it's significantly easier to handle with a single hand – where our thumb is comfortably able to encompass the entire area of the display. Thanks to the arched nature of the phone, it ergonically contours in our hand to provide a natural grip.
It's solidly constructed thanks to the unibody brushed aluminum material we greatly adore, but upon closer inspection, the phone actually has a design attribute that's more akin to last year's HTC One M7. Specifically, it pertains to the polycarbonate siding that prevents the aluminum material from completely wrapping around the phone's sides. Well, it's not quite as apparent on the gunmetal grey version of our review unit, but it's profound on the glacier silver version. Knowing that, the "more metal" approach isn't quite as enforced on this model.
Although it's not a surprising turnout, the premium nature of the HTC One mini 2 continues to be one step ahead of the otherwise plastic bodies of other "mini" phone. Certainly it's not an original design, but for what it offers, we're pleased with the solid results and charming looks of the phone.
Generally speaking, these so-called "mini" smartphones tend to follow the design arrangement of their fuller-sized siblings. However, we're able to spot a few alterations with the HTC One mini 2. Firstly, the placement of its 3.5mm headset jack and power button have been modified, but everything else are in familiar locations. Along the left and right edges of the phone, we continue to find its microSD card slot, volume rocker, and nanoSIM slot. Interestingly enough, the volume control here has a silver accent, which is slightly an off-color tone than the gunmetal grey color of the body.
Also a characteristic thing to find, it bears the same dual front-firing speakers with HTC BoomSound. Unfortunately though, the IR blaster has been omitted with this model – it's one of the more noticeable changes with the phone.
In terms of cameras, many of us are shocked to find this one sporting a larger-than-normal 13-megapixel auto-focus camera with LED flash in the rear. For HTC, it's obviously a dramatic departure, seeing that they've touted highly about its "Ultrapixel" camera technology on its phones. We won't get into the details right now, but we'll expand more on this later. Nonetheless, we should point out that this one manages to feature the same front-facing camera as its sibling – a wide angle 5-megapixel snapper.
Display
The size has been increased marginally to make it more flagship-like, but as a whole, there's nothing particularly out of the ordinary with it.
Not straying from the path, the HTC One mini 2, much like the other devices in the "mini" category, sports a smaller, more thumb-encompassing sized screen. Bearing a 4.5-inch 720p Super LCD-3 display, we're not surprised to see a lower resolution screen, which chimes in with a pixel density count of 326 ppi. It's not a number crunching figure in comparison to the titans in the space, but nevertheless, it's effective enough to still make out fine text.
Despite having its resolution reduced, a common occurrence amongst "mini" phones, the HTC One mini 2 matches its bigger sibling's potency. Specifically, it's able to churn out 489 nits of brightness, keeping the screen visible under sunny conditions. Upon closer inspection, the panel here exhibits a cooler tone due to its color temperature of 8639. In comparison, the HTC One M8's display has a more agreeable color temperature of 7182. Staring straight at the screen isn't an issue at all, since colors radiate with a pleasant glow. However, there's that milky grey hue with the color black when it's tilted slightly. It's not horrific or dramatically decreases the display's usability, but rather, it's something that jumps out at us.
Display measurements and quality