HTC One X vs Galaxy S II vs Note vs Nexus: Benchmark comparison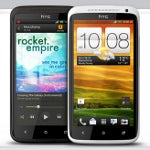 Please note that we're doing this comparison using the international versions of all handsets, and the Galaxy S II is running a Gingerbread ROM. This means that it may get significantly better results if it's running ICS.
The HTC One X was so anticipated not only because it marks a new beginning for the manufacturer, but also because it features the brand new quad-core Tegra 3 processor. This being the first phone to hit the market with this chip, it was very interesting for us to compare it against some of the best handsets out there.
We decided to compare the One X with the Galaxy S II, Galaxy Note and Galaxy Nexus. All are fearsome opponents, save for the Nexus, which isn't so good at benchmarks, but we decided to throw it into the deal anyway. As can be seen from the results below, the One X literally obliterates the competition in most tests, except for the graphically-centric NenaMark 2, where the Galaxy S II reigns supreme, probably due to its significantly lower resolution. In other tests, though, especially the system-wide AnTuTu, the One X's Tegra 3 has shown that it's a force to be reckoned with.
Check out the results we got with the handsets, and don't forget to share what you think with your comments!