HTC One X Review Q&A: Answers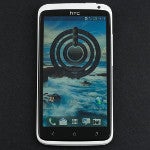 When we posted
our review of the international version of the HTC One X
on Monday, we also gave you the chance to ask your questions about the device - anything that you wanted to know that our review didn't answer. Of course, there have been some really interesting ones, so let's not waste any more time and get right to answering them!
1. CX3NT3_713
Question:
So is this a single core or quadcore phone? I think i read somewhere, it was a single 1.4 core?
Answer:
The HTC One X will come in two versions. The so called international version (available outside the States) has a 1.5GHz quad-core Tegra 3 processor. In the U.S., the One X will be offered by AT&T, and will feature a 1.5GHz dual-core Snapdragon S4 processor. This is because the AT&T versions will also have LTE, and for the time being it seems LTE and Tegra 3 don't really like each other. In our review, we tested the international version of the phone.
2. coolguyx10
Question:
What about the options button. Was the options button really replaced with a multitasking button. If so , how will this effect the phones compatibility to apps.
Answer:
The contextual options button present on Android 1.* and 2.* devices is no longer present in Android 4 ICS. There is no problem with app compatibility, because those apps that have such options now have an on-screen key, which grants access to those options.
3. Milosone
Question:
I have a One X on pre order, the only thing that I'm not sure about is getting music off of it and onto a dock a la iphone, can you reccomend anyway of doing so? I assume it would have to be wirelessly so am wondering if an airplay equiped B&W Zeppelin would be compatible.
Answer:
As far as we understand, you want to be able to stream music from your One X to some kind of external speakers. You should be able to do that with pretty much all Bluetooth or Wi-Fi enabled speakers on the market. If you are specifically looking for a dock, HTC will be selling a special Media Dock for the One X, which will play music through its own speakers (while charging the phone). However, it's not sure when HTC will begin offering this dock.
4. ogiveyakuza
Question:
right now, I'm using Samsung Galaxy Note, is it good for me if I want to use HTC One X? Can you guys make a comparison for both of it. Take note, I'm not living in USA?
Answer:
If the Galaxy Note isn't too big for you, we don't see a reason why you should buy a One X. The only substantial thing missing on your device is Ice Cream Sandwich, which will come as an update, sooner or later. We'll consider making a comparison between the two handsets!
5. KarolR
Question:
Hey PhoneArena,

first of all, thank you for all those great articles and reviews that make our geeky hearts beat a little more geeky every day :-)

I have a question regarding the HTC One X and HTC One S, I guess it applies to both models:
since there is a missing dedicated hardware camera button (Why HTC? Why?...), can the user at least remap the volume rocker keys or the lock key to be a camera shutter button when the camera application is open?

Thanks!

KarolR
Answer:
Hey KarolR! There isn't an official way of remapping hardware keys. It is possible if you have a rooted device, although it isn't certain if it'll work with the One X/S. The on-screen camera shutter is very easy to use, though, so it shouldn't cause you any troubles.
6.
gayasarafe
Question:
android ice cream sandwich still lags in some areas on my galaxy nexus s. Does the 4 cores (5, technically) prevent the htc one x from lagging?
Answer: The One X user interface runs very smoothly. We haven't encountered any lag when it's operating normally. However, we did experience a few app crashes, which caused the phone to reload some of its UI (causing a short delay), but overall, there's no lag in the One X's UI.
7
.
Irad123
Question:
is the 32GB enough for playing many gameloft games + 4GB of media? I won't be using cloud storage... Q.2 If I want a quad core phone, top notch, should I buy the One X, or wait for another?
It would be best if it's tegra 3...
Answer: In our opinion, 32GB are perfectly enough, even if you play a lot of games. We can't tell you if you should buy the One X, or wait for another quad-core phone, because we don't know if the upcoming ones will be better or worse than the One X. We're all waiting for the Galaxy S III to come out, hopefully sooner rather than later, so it might be best if you wait a bit. Still, if you need a quad-core phone like... right now (which would be kind of strange), you have no other choice but to get the One X.
8.Retro-touch

Question:
Why does the engadget HTC One X review say it records at a fluid 30FPS and on the phonearena review it records at 23FPS, did you have a faulty unit? The One S according to the benchmarks is faster when you get a One S can you do a full comparison against its more expensive sibling, it also seems the battery life is better on the One S
Answer: If you play the video sample Engadget has uploaded, it's easily visible that it's not running at 30 FPS. It's not that smooth. We will post a comparison between the One S and One X very soon, so stay tuned!
9. Tomfromsouth

Question:
Ray s, or whoever knows. Will the One X have a notification light. It is one of my top requirements and reviews often forgo/forget to mention it. Thanks
Answer: Yes, the HTC One X has a notification light hidden in its earpiece grill.