HTC One Max snapped without a back cover, release date is next week
16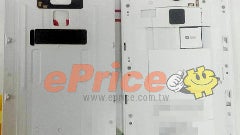 By now we know a whole bunch about the
HTC One Max
, and about the only thing left was to see it without a back cover. That's what the slideshow below is offering indeed, showing a square region between the camera unit and the SIM slot, that confirms the speculation of a
fingerprint scanner
built into the rear of the phone.
What's more, the source says this removable back cover will be put on the international version as well, as the
Verizon testers confirmed about their One Max units
. It will allow you to insert a microSD card up to 64 GB, adding to the 16 GB of storage already on the device, and is a welcome departure from HTC's sealed unibodies of late.
The battery compartment seems still sealed, though, so it won't be easy to replace the rumored 3300 mAh juicer on the go. Those contact pins on the side? These are said to be for an extra back cover with a built in thin 1200 mAh battery sheet, which should add extra endurance to the big-screen phone.
Software improvements are apparently also in store, with the BlinkFeed news aggregator getting photos and music folded in, too. The Video Highlights feature duration will apparently also be increased. The HTC One Max release date is expected to be October 17/18, with sales starting shortly after that.