HTC One M9 to be released in Americas starting on April 10th; overheating rumors addressed
25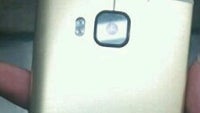 HTC Americas president Jason Mackenzie revealed during the company's Uh-oh webcast announcement that the
HTC One M9
will start to be available in the Americas on April 10th. The HTC executive basically said that actual launch dates will be up to the individual carriers depending on when they receive their inventories of the handset.
Nothing was said about the alleged software flaw that
prevented HTC's new flagship from launching in Taiwan on March 16th
as expected. There is speculation that a new launch date of March 20th is being targeted by HTC for the release of the handset in its own backyard. Since this was not brought up during the webcast, we are unsure whether this bug might have set back the release of the device in the Americas.
Mr. Mackenzie did address
the rumors about the HTC One M9 overheating due to an issue with the Snapdragon 810 SoC
. As we passed along the other day, benchmark tests of the various phones showed that the unit ran the hottest with a surface temperature measured at 132 degrees fahrenheit. That compares to the 102 degree reading taken of the
HTC One (M8)
and the 100 degrees measured on
Samsung Galaxy Note 4
. Mackenzie said that HTC would not release a phone unless it was confident that it had a quality product to offer consumers.
source: HTC