HTC One M9+ announced in Europe, it's a larger One M9 with a Quad HD display and fingerprint scanner
12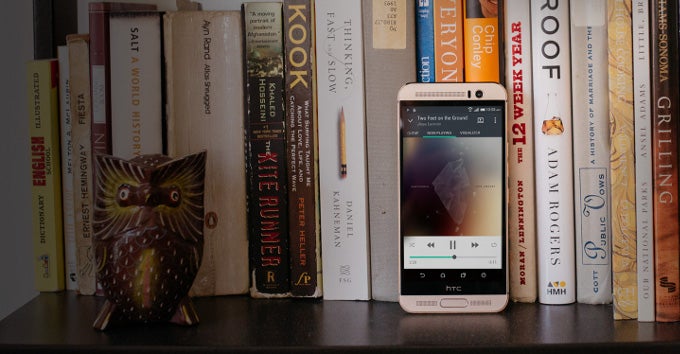 If one thing's for certain by now, it's that HTC's plan for 2015 was quite ambitious. We've got the
HTC One M9
, the
One E9+
, the
One ME
, and even the
One M9+
. All of these are high-end devices with top shelf hardware packed within, but for a while now we thought they were just slight variations of the same formula, aimed to satisfy the needs of different markets. That's probably true to a extent, but today's announcement of the One M9+ for European markets shows that the company is willing to saturate its premium product line and let its own boys battle for consumers' hearts.

As the name suggests, the HTC One M9+ is the 'plus' version of the standard One M9 that we first saw at MWC2015. Aesthetically, the devices are near identical, with the only difference being the physical, touch-type fingerprint scanner on the bottom bezel, parting the lower BoomSound speaker. Beyond that, the M9+ has all the markings of classic One line design, including the signature all-aluminum body and ergonomically rounded back plate. There are a few more changes available with the M9+ that warrant the plus suffix, and one that may come across as the exact opposite, but perhaps isn't.
Let's start with the positives. The One M9+ has a slightly larger, 5.2-inch display, with the panel in question boasting a Quad HD (1440 x 2560) resolution, giving it a density of 565 pixels per inch. On the other hand, Qualcomm's problematic Snapdragon 810 has been swapped with a chip from MediaTek — the 64-bit, 2.2GHz Helio X10 with eight cores. This may sound like a downgrade, but given the widespread issues with the 810 (it gets really, really hot), and the fact that the Helio X10 is a very recent solution built from the ground up with ultra-high resolutions in mind, we reserve an official opinion for later.
The rest of the specs on the One M9+ are taken right off the standard M9's list. We've got 3 gigs of RAM, a 20-megapixel main camera from Toshiba, with
f
/2.2 lens and dual LED flash, a 4-megapixel UltraPixel selfie snapper, and a 2,840 mAh battery.
The One M9+ will be made available in select European markets in gunmental grey, gold on gold, and silver on gold. Unfortunately, that's all we know for now — HTC is keeping mum on specifics like pricing, among others.