HTC One (M8) vs HTC One (M7) vs Galaxy S4 specs comparison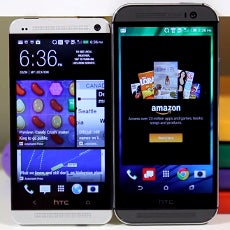 There is a huge difference between last year's spring crop, with the
HTC One
and
Galaxy S4
as the most notable representatives, and this year's edition, like the new One (M8). Since they couldn't score Snapdragon 800 in time, the 2013 spring lineup got equipped with Snapdragon 600 processors, which warranted a two-stage processor leap this year, directly to
Snapdragon 801
.
This is actually the biggest hardware gap with the new HTC One, when compared to its predecessor, as the rest of the specs are pretty similar. All three phones sport 1080p displays and 2 GB of RAM, so the silicon power advantage is entirely on the side of the new HTC One. It also adds a microSD slot for storage expansion - something that its predecessor doesn't have - putting it on equal footing with the Galaxy S4 in that regard, too.
When it comes to the cameras, the new Duo shooter of HTC is certainly something unique in terms of post-shot effects it allows you to do with your pictures. Its main unit, however, is the same 4 MP UltraPixel camera that debuted with the HTC One, while the Galaxy S4 flaunts an excellent 13 MP shooter on its back. In terms of battery capacity, the S4 and the new One are equals, while the older HTC One lags a bit behind, but capacity isn't the whole story. All in all, the new HTC One is a sufficient enough leap over last year's edition, though you might want to hold your horses if you are not sold on the uniqueness of its Duo Camera's options.
Samsung Galaxy S4 vs HTC One vs HTC One (M8)
Compare phone and tablet specifications of up to three devices. Type a model name in the search field of our phone specs comparison tool or pick a popular device from the ones below.
Display
Technology
Super AMOLED
S-LCD 3
S-LCD 3
Features
Scratch-resistant glass, Ambient light sensor, Proximity sensor
Ambient light sensor, Proximity sensor, Scratch-resistant glass
Ambient light sensor, Proximity sensor
Hardware
Qualcomm Snapdragon 600 8974
Qualcomm Snapdragon 600 APQ8064T
Qualcomm Snapdragon 801
Quad-core, 1900 MHz, Krait 300
Quad-core, 1700 MHz, Krait 300
Quad-core, 2300 MHz, Krait 400
Adreno 320
Adreno 320
Adreno 330
Internal storage
64GB
64GB
32GB
OS
Android (5.0 Lollipop, 4.4.2, 4.3, 4.2.2)
Android (5.0 Lollipop, 4.4.3, 4.4.2, 4.3, 4.2.2, 4.1.2), HTC Sense UI
Android (6.0 Marshmallow, 5.0 Lollipop, 4.4.3, 4.4), HTC Sense UI
Battery
Charging
Qualcomm Quick Charge 2.0
17.00 hours
the

average

is 19 h (1166 min)
18.00 hours
the

average

is 19 h (1166 min)
20.00 hours
the

average

is 19 h (1166 min)
15.4 days (370 hours)
the

average

is 36 days (863 h)
20.8 days (500 hours)
the

average

is 36 days (863 h)
20.7 days (496 hours)
the

average

is 36 days (863 h)
13.3 days (320 hours)
the

average

is 25 days (607 h)
Camera
Rear
Single camera
Single camera
Dual camera
Main camera
13 MP (Autofocus, CMOS image sensor, BSI sensor)
4 MP (OIS, Autofocus, BSI sensor)
Specifications
Aperture size: F2.2; Focal length: 31 mm; Sensor size: 1/3.06"; Pixel size: 1.14 μm
Aperture size: F2.0; Focal length: 28 mm; Sensor size: 1/3"; Pixel size: 2 μm
Aperture size: F2.0; Focal length: 28 mm; Sensor size: 1/3"; Pixel size: 2 μm
Second camera
4 MP (Depth information)
Video recording
1920x1080 (Full HD) (30 fps)
1920x1080 (Full HD)
1920x1080 (Full HD) (60 fps), 1280x720 (HD) (120 fps)
Features
EIS
OIS, HDR, Video calling
HDR, Video light, Video sharing
Front
2 MP
2.1 MP
5 MP
Video capture
1920x1080 (Full HD) (30 fps)
1920x1080 (Full HD)
1920x1080 (Full HD)
Design
Dimensions
5.38 x 2.75 x 0.31 inches (136.6 x 69.8 x 7.9 mm)
5.41 x 2.69 x 0.37 inches (137.4 x 68.2 x 9.3 mm)
5.76 x 2.78 x 0.37 inches (146.36 x 70.6 x 9.35 mm)
Weight
4.59 oz (130.0 g)
the

average

is 6.2 oz (176 g)
5.04 oz (143.0 g)
the

average

is 6.2 oz (176 g)
5.64 oz (160.0 g)
the

average

is 6.2 oz (176 g)
Materials
Back: Plastic
Back: Aluminum
Features
Notification light