HTC One M8 for Windows vs LG G3: first look
3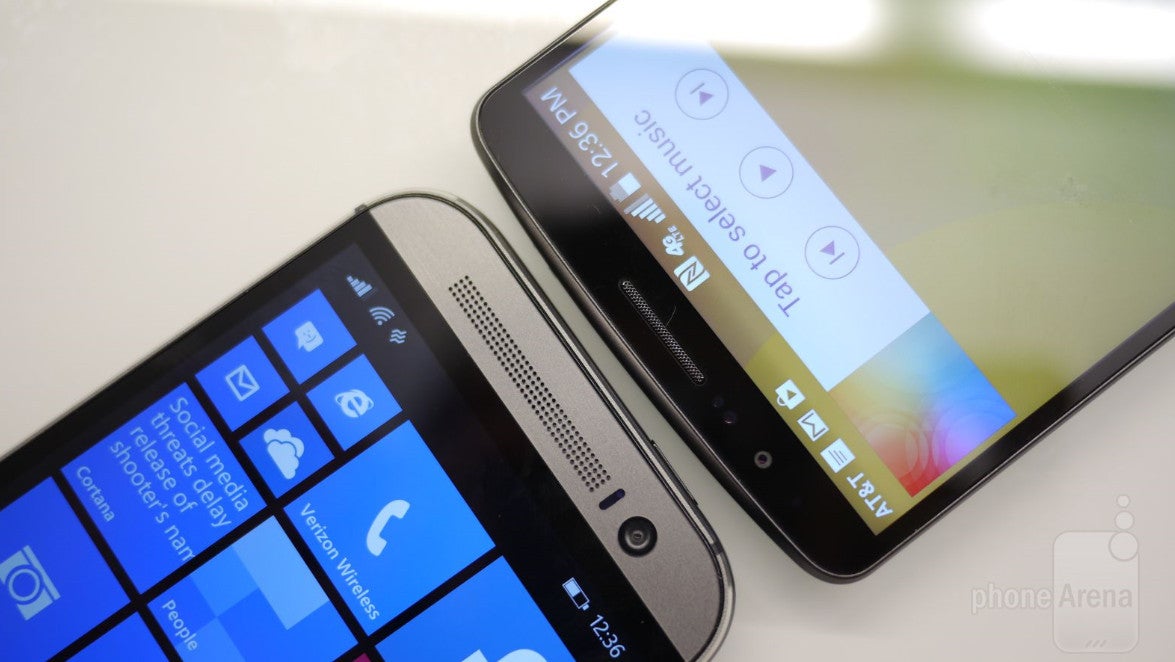 Both HTC and LG are in the same boat of playing catchup, as they're doing whatever they can to match Samsung's pace in the Android sphere. Very recently, the LG G3 made some waves for its class-leading screen resolution, which was one of several standout features from the phone. As for veteran smartphone maker HTC, they're bringing to market a Windows Phone powered version of its beloved HTC One M8. Since the
HTC One M8 for Windows
is the new kid on the block, it'll be intriguing to find out how it stacks against the formidable
LG G3
.
Design
In all honesty, we might not too ecstatic about the design of the HTC One M8 for Windows, mainly because it's an exact facsimile to the Android one we're all familiar with, but it still radiates a higher level of quality than that of the LG G3. Sure, LG has added a thin film of metal to the G3's chassis, but it's still relatively exudes the finish and feel of plastic. It's a stark contrast to the sturdy brushed aluminum material that comprises the HTC One M8 for Windows. Naturally, the LG G3 earns the checkered flag for its thin and lightweight construction, but at the end of the day, when it comes down to pure design, we have to still shower the HTC One M8 for Windows with adulation for its stunning design, solid construction, and premium quality.
Display
This isn't too much of a shocker to us, seeing that HTC has done nothing to improve upon the display of the One M8 for Windows – more so when it's the utilizing the same resolution and display technology as its Android counterpart. Sporting a 5-inch 1080 x 1920 Super LCD-3 display, we can't complain a whole lot about the screen of the HTC One M8 for Windows, since it's appropriately spec'd and has several polished elements to it. However, the LG G3's larger 5.5-inch 1440 x 2560 IPS-LCD based display is more profound for its crazy-to-believe resolution. Looking at the two displays closely, and we mean very closely, we can clearly make out the sharper look of the LG G3's display – albeit, most people wouldn't be too concerned by it, as the display of the HTC One M8 for Windows is still crisp and sharp on its own.
Interface
HTC can do only so much to enhance the Windows Phone 8.1.1 experience on its new phone, but for the most part, we feel as though that LG's customized Android experience bears a cleaner look. Well, there's no arguing that Windows Phone has this very lively and dynamic look, but the refreshing nature presented to us with LG's customized Android experience is just more potent in gaining our attention. Not only does it feature one heck of a slick looking interface, one that's sprinkled with this modernized feel, but it just offers more software features. For example, the multi-tasking element is no doubt more enhanced with the LG G3 – allowing us to get more stuff done.
To be fair, though, we haven't spent a whole lot of time checking out the enhancements HTC has added to the Windows Phone experience – like its new HTC BlinkFeed and HTC Camera apps. Therefore, we'll be reserved for now in our judgments until we can get a grip for what it has to offer.
Processor and Memory
On the surface, these two prized stallions match one another with their performances – even though the LG G3 has a slight advantage when we look at their specs. In particular, the HTC One M8 for Windows features a quad-core 2.3GHz Qualcomm Snapdragon 801 SoC coupled with 2GB, which is a tandem that's capable of handling any processor intensive tasks. Interesting enough, though, the LG G3 is equipped with the same Snapdragon 801 chipset – though, it benefits in the specs department for its slightly higher clocked speed of 2.5GHz, and its 3GB of RAM. Specs aside, the two seem to match one another with their performances.
Presenting us with 32GB of internal storage at the very least, it's a tally we feel as being sufficient for most people. Still, there's room for expansion thanks to their microSD card slots, but we prefer the easier access of the LG G3's slot.
Camera
At the moment, we can only speculate on how the quality of the 4-megapixel "Ultrapixel" camera of the HTC One M8 for Windows can compare to the 13-megapixel camera of the LG G3. In our most recent photo comparison article, we already know how formidable the LG G3 really is in the camera department, as it's able to easily eclipse the Android-powered HTC One M8. Still, we're hopeful that HTC's new offering can show us some improvements somewhere, seeing that we're very inclined to say from the onset that details might once again be an issue.
Expectations
LG has focused a lot of its attention in developing a truly outstanding Android powered smartphone, and the LG G3 is the result of all of that. It's indeed a true powerhouse in the sense, as the high-flying specs in tow with it are able to raise a few eyebrows in the process. Well, HTC is doing the same thing by outing a high-end Windows Phone – the HTC One M8 for Windows. It's different in some ways, yet familiar in others, but the ruling is still out on whether it has enough appeal to take away some of the light from the LG G3.