HTC One E8 shows up in China with 2.5GHz Snapdragon 801, 13MP camera
23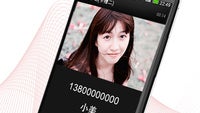 Meet the new HTC One E8. It has just popped up on HTC's web site in China, which makes it pretty much official. This appears to be a slightly modified version of the HTC One (M8) flagship, and it very well may be its rumored
HTC One (M8) Ace
variant.
Unfortunately, we're not exactly fluent in Chinese, which is why we can't bring you as many official details about the device as we wish we could. What we can tell for sure, however, is that the HTC One E8 sports a Snapdragon 801 SoC with a quad-core 2.5GHz CPU. As a reminder, the One (M8) has the slightly slower, 2.3GHz Snapdragon 801 variant. Also, instead of an Ultrapixel camera, on the E8's back resides a 13MP shooter with a single LED flash. The front-facing one packs 5MP of resolution, in case you're wondering. 4G LTE connectivity with China Mobile is also on board. Like the (M8), the HTC One E8 boasts a pair of BoomSound front-facing speakers. Interestingly, the phone's packaging appears to double as a 5W mood light.
Further specs and details aren't 100% clear, but it is believed that the HTC One E8 has a plastic housing instead of a metal one. The 1080 by 1920 pixel display is said to measure 4.7 inches in diagonal.
That's all we know about the HTC One E8 so far. Whether or not we'll get to see it launch outside of Asia is not certain, but we'll let you know in case we learn more on the matter.
UPDATE:
The HTC One E8 is a limited edition smartphone. 100 units will be given away, 25 at a time, and in return, the people given the privilege to own one will be asked for feedback on its design and features.