HTC Flyer spotted on Amazon Germany priced at 669 euros ($904 U.S. dollars)
3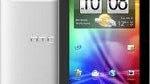 As we
reported
yesterday, HTC introduced its first tablet, the HTC Flyer. While the tablet will have a 7 inch screen, a 1.5GHz single core processor and be powered by Android 2.4, those specs may not allow the HTC Flyer to compete directly with other tablets like the Motorola XOOM or the Samsung Galaxy Tab 10.1. Besides the bigger 10.1 screen that both tablets offer, the latter two devices both are powered by Android 3.0.
And while the HTC Flyer does have a capacitive display that allows for multi-touch and the use of a pen, is that feature enough to justify pricing the tablet at 669 euros? Amazon Germany thinks so and has priced the tablet at that figure which works out to $904 U.S. dollars. But so far, 7 inch tablets have had difficulty competing with the Apple iPad, even at lower price points. The 7 inch Samsung Galaxy Tab could not eat into the iPad's market share, so the Korean based manufacturer decided to go with a larger screen with its upcoming Galaxy Tab 10.1 tablet. With a 10.1 inch screen, Samsung will be able to compete with both the Motorola XOOM and the Apple iPad.
With all of the competitive pressure leaning on the HTC Flyer such as the smaller screen, the lack of Honeycomb under the hood and the use of a single-core processor (albeit a 1.5GHz chip), can these disadvantages be overcome? How about if the tablet is priced at $904 U.S. dollars? With the Motorola XOOM getting priced at $799 for an unsubsidized version as we
told you
today, that price differential might be the proverbial straw that breaks the camel's back, forcing Amazon to re-think its pricing of the tablet.
source:
TabletBlog
(translated) via
electronista
Amazon Germany is selling the just introduced HTC Flyer tablet for 669 euros, the equivalent of $904 U.S. dollars