HTC Flyer 2 coming with an extremely slim anodized aluminum body, Snapdragon S4 chip
13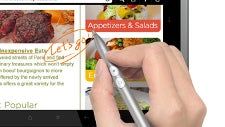 HTC will not be making a Windows 8/RT-based tablet, but that might turn out to be a good thing for competition as now more details surface about an
upcoming HTC Flyer 2
, the second generation of HTC's 7-inch Android tablet.
The second-gen Flyer is said to feature a 7-inch screen with a resolution of 1280 x 768 pixels and the same gorgeous anodized aluminum body like the HTC One S, according to a source in the know.
The 28nm Snapdragon S4 chip will power what's said to be the latest of Android, 4.1 Jelly Bean. The HTC Flyer 2 will also be equipped with both a 3-megapixel rear camera and a 1-megapixel front facing shooter. Best of all, it will be only 0.28-inch (7.1mm) thick.
All of that indicates that HTC will not compete in specs, but in balancing affordable price and outstanding design. At 7 inches, the Flyer 2 will face competition from the $199 Nexus 7, the upcoming Kindle Fire 2 and an expected iPad mini this October. The previous HTC Flyer came with an optional stylus and a version of HTC Sense supporting all sorts of stylus actions, so it's possible that the new Flyer will also retain that.
On top of that, HTC has just announced a big event for September 19th in the Big Apple, so hopefully then we'll get to see not only the rumored 5-inch HTC superphone, but also the Flyer 2 tablet. Stay tuned, September will definitely keep us entertained.
Thanks, anonymous!