HTC EVO V 4G for Virgin Mobile announced, paired with unlimited 4G data for $35 per month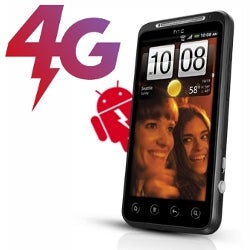 If the name sound familiar, that is because a recent rumor claimed that the
HTC EVO 3D was to be rebranded as the HTC EVO V 4G
, and that rumor now turns out to be quite accurate. What the HTC EVO V 4G features is a 4.3-inch qHD touchscreen and a pair of 5-megapixel cameras on its back that are capable of taking 3D images and video at HD resolution. There is a
1.3
-megapixel front-facing camera as well thrown in for good measure.
Does the HTC EVO V 4G spark your interest? Then get ready to drop $300 on the table. This, however, seems like a fair price considering the device you are getting in exchange, and the peace of mind from knowing that you are not tied to a carrier contract. The most affordable 4G plan is priced at $35 per month, which includes unlimited data and texts (2.5GB at full speed), as well as 300 anytime minutes. The smartphone will be made available for purchase on May 31.
source: Sprint
Virgin Mobile USA Introduces 4G with No-Contract Plans Starting as Low as $35 per Month
WARREN, N.J. (BUSINESS WIRE), May 08, 2012
- Virgin Mobile USA continues to demonstrate how it's answering to A Higher Calling with the speed of 4G, by offering customers who prefer a no-contract option the fully loaded HTC EVO™ V 4G on Virgin Mobile Beyond Talk monthly plans. The data-centric offers start at $35 per month for unlimited data and messaging. HTC EVO V 4G will be available for $299.99 beginning May 31.
Virgin Mobile USA Introduces 4G Speed with the HTC EVO V (Photo: Business Wire)
As Sir Richard Branson states in his video manifesto for A Higher Calling, "Why pay for minutes when it's unlimited data you really want?" Now customers will be able to enjoy unlimited 4G data where available and messaging on an iconic Android™-powered device, all for just $35/month.1 Virgin Mobile USA was recently "Highest Ranked Customer Service Performance among Non-Contract Wireless Providers" by J.D. Power and Associates.2
"'Higher Calling' means we continue to look for ways to give our customers the best products possible at a great price, and we know our hyper-connected Beyond Talk customers will appreciate the real affordability paired with the innovative technology of the HTC EVO," said Jeff Auman, vice president for Virgin Mobile USA. "You just can't beat the value of EVO V 4G with plans starting at just $35 per month."
On the mobile broadband side, Virgin Mobile's Broadband2Go continues to offer no-contract plans ideal for people who need internet access when they're out and about. The versatile Overdrive Pro™ 3G/4G mobile hotspot by Sierra Wireless ($149.99) and the powerful U600 3G/4G USB Stick by Franklin Wireless ($99.99) provide customers two ways to stay connected at 4G speeds. "The launch of these two devices demonstrates our commitment to bring 4G speeds and innovation to our Broadband2Go customers who chose to forgo a contract as well," said Auman.
All three devices will operate on Sprint's 3G and 4G (WiMAX) network and be available beginning on May 31 at VirginMobileUSA.com. They will then be available in June at major retailers and at select independent dealers nationwide3.
The HTC EVO V 4G strengthens Virgin Mobile USA's Android-powered smartphone lineup by adding such features as Android 4.0, Ice Cream Sandwich and HTC Sense 3.6 user interface.
Proving that customers don't have to sacrifice technology to choose a prepaid smartphone that keeps them connected, HTC EVO V 4G specifications also include:
Mobile hotspot capability – Connect up to five Wi-Fi devices
5MP camera with video and 3D HD imaging, and 1.3MP front-facing camera
4.3-inch qHD touchscreen
1730mAh battery (up to six hours of talk time)
1GB RAM/4GB ROM
External micro SD memory card slot up to 32GB (8GB card included)
HDMI and Bluetooth-capable
HTC EVO V 4G customers will enjoy Virgin Mobile USA Beyond Talk plans starting at just $35 a month for 300 minutes of voice with unlimited messaging and data.4 And the mobile hotspot on the HTC EVO V 4G can be added for this device on any Beyond Talk plan for an additional $15 per month.