HTC Desire EYE versus Samsung Galaxy S5: first look
1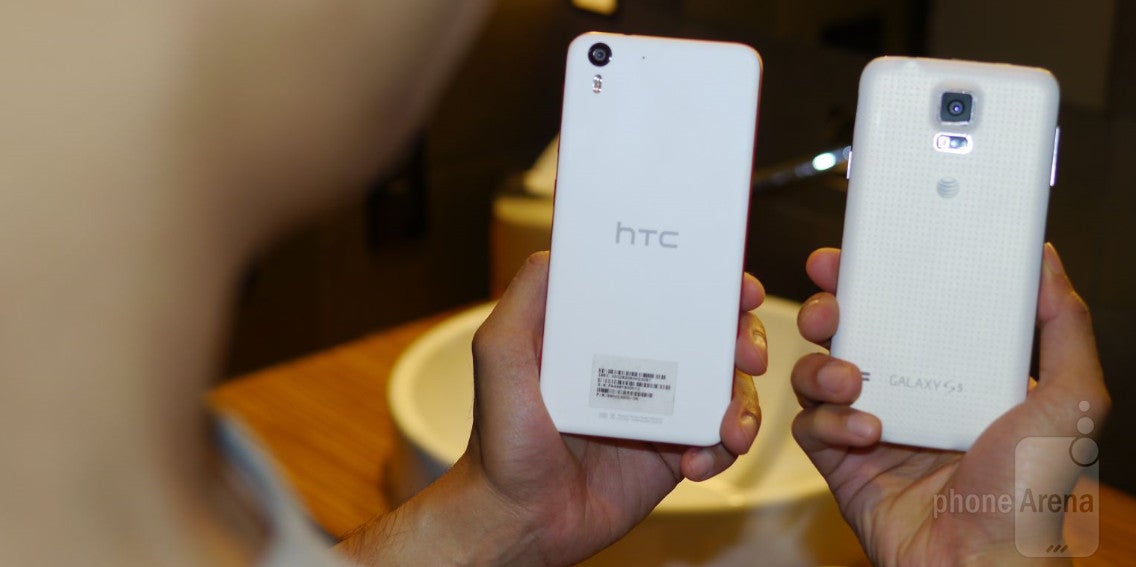 Arguably the Android smartphone to be at the moment, the Samsung Galaxy S5 continues to be a trailblazer in the space – even after several other notable smartphones have launched after it. HTC has its crosshairs set again on its rival with its upcoming smartphone in the HTC Desire EYE, one that meets its rival on so many levels. Having to play the comeback game for some time now, we're curious ourselves to find out exactly whether the Desire EYE has the guts, performance, and the goods to knock out the Galaxy S5 from its pedestal.
Design
They're both plastic bodied things, and they also offer a handy water resistant construction that make them useful for those situations when we just need to shoot photos or videos where we're exposed to water. Beyond that, however, we prefer the more stylish design of the Desire EYE – mainly for its uniform and seamless finish. In contrast, the Galaxy S5 has a subtle sophistication with its design, but in comparing it to the Desire EYE, it lacks the liveliness and charm that accompanies its rival.
Display
Being contemporary devices, we're pleased by the displays that they have to offer – though technically, they utilize different technologies. With the Desire EYE, it's packing a 5.2-inch 1080 x 1920 LCD display, which earns marks for its great outdoor visibility and neutral color reproduction. As for the Galaxy S5, its 5.1-inch 1080 x 1920 Super AMOLED panel astounds us with its iridescence under low lighting, wider viewing angles, and over saturated color reproduction. With the latter, some folks aren't too fond of its over saturated looks, which tend to be inaccurate, but others find that quality to be an attractive thing. Ultimately, it's a matter of personal preference.
Interface
We've compared these two customized experiences in the past articles, so there's nothing here that we haven't covered in great detail. Well, HTC has optimized the camera app here in the Desire Eye, but for the most part, everything else has been untouched from what we've seen previously. Between them, we prefer the modern design and simplistic nature of Sense 6.0 – whereas, the Galaxy S5's TouchWiz UI has a lot of software features, which some feel to be too much to the point that it complicates things. Still, some people love having more features than a few, so the Galaxy S5 will undoubtedly appease them.
Processor and Memory
Looking into the hardware under the hoods of the two smartphones, we instantly know that we're dealing with high-end, contemporary phones here. To be more exact, they're packing the same quad-core 2.3GHz Qualcomm Snapdragon 801 SoC with 2GB of RAM – the processor that powers many of today's flagships. Even in our short time checking out the two together, they exhibit pretty much the same responsive performances.
In addition to their internal storage capacities, it's comforting to know that they can be supplemented thanks to their microSD card slots.
Camera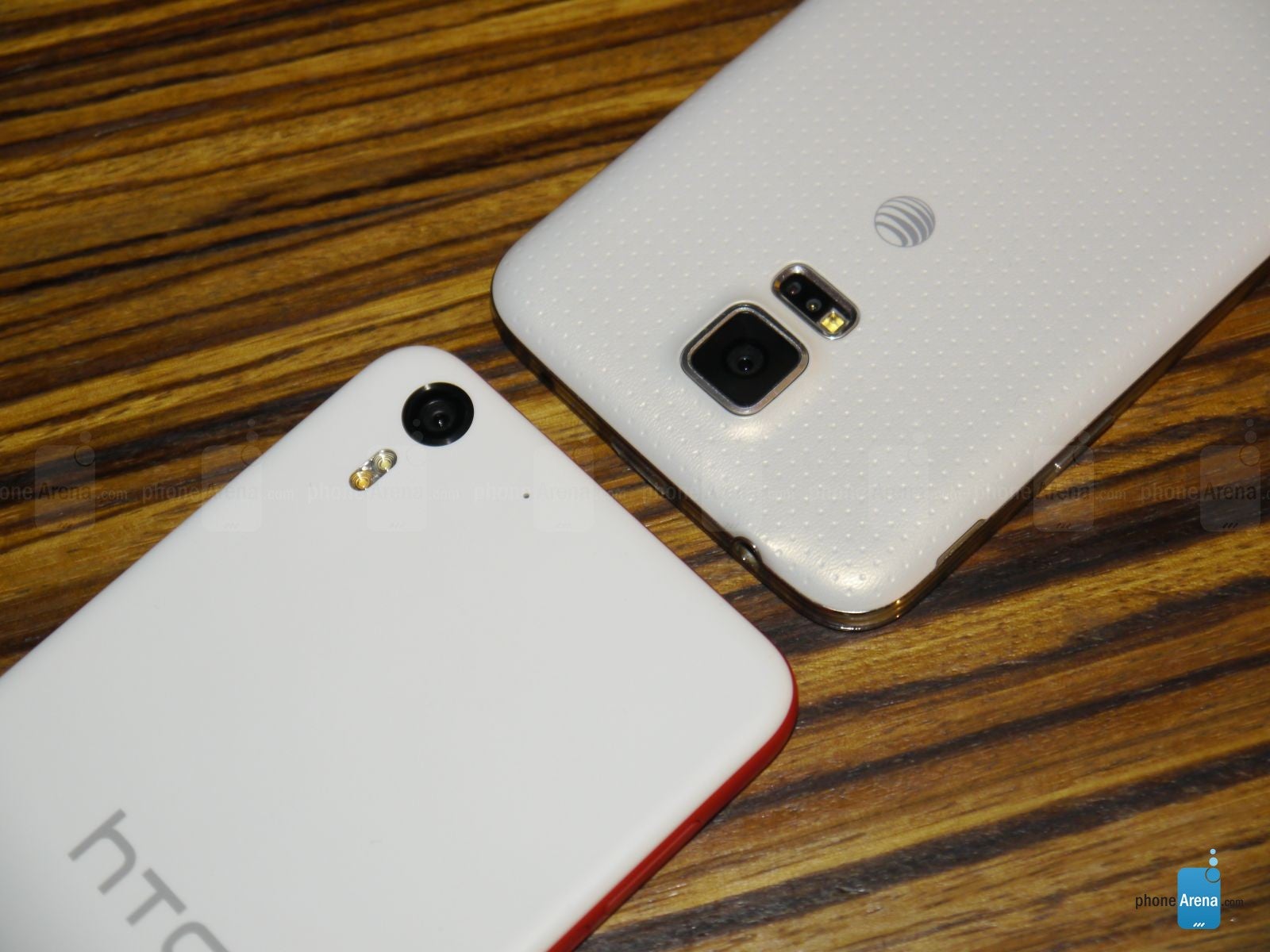 Needless to say, we're happy to see that HTC has opted to go with a higher resolution 13-megapixel camera with the Desire EYE – instead of the Ultrapixel camera of the M8. It undeniably seems on paper to be formidable against the Galaxy S5's even beefier 16-megapixel camera. In countless camera comparison articles on our site, the Galaxy S5 is a consistent top finisher, so we're eager to see exactly if the Desire EYE can give it some competition. However, when it comes to video recording, the Desire EYE tops out at 1080p – while the Galaxy S5 gives us flexibility with its 4K recording solution.
Expectations
Heading into the busy holiday season, the Galaxy S5 continues to be a strong contender in the space – in spite of the heavy competition that's around. For a model that's been selling for several months, it has the staying power to constantly be a relevant thing in the space. Of course, the HTC Desire EYE is just beginning its own journey at the moment, but will its set of unique goodies be enough to redirect the attention away from its rival – and instead refocus it back to HTC?