HTC 10 early adopters should be receiving their "thank you" gifts
20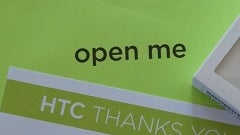 Shortly after unlocked models of the
HTC 10
started shipping, those that pre-ordered the device
received emails from HTC
thanking them for ordering the new flagship, and that they should keep an "eye out for a package in the next couple weeks."
We offered some glamorous guesses as to what the small token of appreciation might be. As it would happen, none of our guesses were correct, but gifts are gifts, and gratitude is gratitude.
HTC sent its fans an extra USB-C cable. No, it is not extravagant, but it is on-target. The global smartphone user base is at the tipping point of a massive adoption of the new universal connection. While many of us may have dozens of traditional micro USB plugs scattered about, if we needed an extra Type-C cable, chances are we have not built up a proper inventory. HTC also points out that UH OH Protection is available at no extra cost.
So there it is. If you were an pre-order customer, and have not yet received your "thank you" gift from HTC, sit tight, you should receive it any day now. And to HTC we say, "Thank you for making such a great device in the HTC 10." If you have been thinking about picking up an HTC 10 for yourself,
check out our review of the flagship
, we think you will like what you see.