HTC 10 cases by Spigen: hands-on review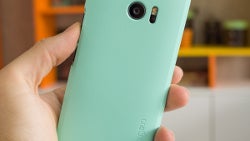 If you live in the States and are as into the HTC 10
as we are
, you're probably aware of the company's complementary
Uh Oh Protection
. It comes free, and let's you replace a shattered screen once, or let HTC engineers take care of water damage. A
very
nice extra, sure, but not one that saves you from having to invest into protection in the form of a case.
A necessary evil, there are plenty of accessory makers that will be happy to take your money. Seeing as you've invested in a high-end, flagship device, however, you'll probably want an equally solid solution—such as Spigen's line-up of HTC 10 cases. The maker was nice enough to send us a crate filled to the brim with its portfolio of HTC 10 cases, and it's about time we took a good, hard look.
Spigen Slim Armor
MSRP: $29.99
Dimensions: 3.05 x 5.97 x 0.51 in (77.5 x 151.6 x 13 mm)
Colors: Champagne Gold, Gunmetal, Sating Silver
A traditional part of Spigen's portfolio, the Slim Amor series, as the name suggests, are a mix between ruggedness and a thin form factor. They're not exactly slim, per se, but offer plenty of protection in return. Considering the HTC 10's comparatively thick profile, however, do expect Spigen's Slim Armor to further add some fat to the sides.
In terms of construction, the case is made out of two pieces: a flexible TPU rubber interior that helps grip, to which a hard plastic exterior attaches. The case feels sturdy and we feel confident it'll protect our HTC 10 with its raised lip up front and military-grade certification. Towards the bottom, the case features a cut-out for a kickstand that can be used to comfortably watch video and host Skype calls on the go. In our experience, the kickstand is sturdy enough to survive for a long time, and we appreciate the fact that it snaps to the case when not in use.
As you'd expect from a Spigen case, the Slim Armor for the HTC 10 has cutouts for all buttons and jacks—even the tiny secondary microphone on the back. What we aren't exactly crazy about—and perfectionists will definitely notice—are the thin leftover markings in the interior rubber piece from manufacturing.
Spigen Ultra Hybrid
MSRP: $24.99
Dimensions: 3.00 x 5.91 x 0.47 in (76.2 x 150.1 x 11.9 mm)
Colors: Rose Crystal, Crystal Clear
If you dig the mannish looks of the HTC 10 as much as we do, you're probably looking for something that won't hide HTC's designwork. The Spigen Ultra Hybrid fits just that bill, all the while offering more than reasonable protection and at acceptable sacrifice to thinness.
Unlike the Slim Armor, the Ultra Hybrid is a single piece. Despite its translucent looks and soft back, however, this plastic case is rigid and still features Spigen's Air Cushion technology. Marketing speak aside, this means that air pockets on all four edges—and even immediately next to the buttons on the right—add an extra layer of protection.
As importantly, this case offers excellent grip, though the sides cut in into our palm a little too much. Like the Slim Armor we have on hand, the Ultra Hybrid unit here also has a manufacturing imperfection on the bottom—a tiny circle next to the speaker grill.
Spigen Neo Hybrid
MSRP: $34.99
Dimensions: 3.09 x 6.00 x 0.47 in (78.5 x 152.4 x 11.9 mm)
Colors: Satin Silver, Gunmetal, Champagne Gold
Part of Spigen's most expensive tier, the Neo Hybrid is on the thinner side, but still adds quite some bulk to the sides of the HTC 10. Certified for drops, and featuring a raised lip up front, it offers quite some protection. Unlike the Ultra Hybrid, however, this two-piece isn't translucent and instead features a textured rubber back. And unlike the Ultra Hybrid—and despite Spigen's claims—it's actually rather slippery.
On the plus side, the included button caps allow for easy control over things like volume, without requiring extra effort when pressing as is the case with other Spigen cases. Considering how often you tweak volume and unlock your device with the power button, that's not at all unimportant.
Spigen Neo Hybrid Crystal
MSRP: $34.99
Dimensions: 3.09 x 6.00 x 0.49 in (78.5 x 152.4 x 11.9 mm)
Colors: Gunemtal, Silver Satin, Champagne Gold
Just like the Neo Hybrid, the Crystal variant offers the same mix between protection and dimensions. Unlike the Neo Hybrid, this case is actually translucent, save for the frame, which comes in three distinct colors.
The plastic back here, however, means that you get a much more secure hold with little to no compromise to grip. The aforementioned button caps are also available here, which we again found to be a good choice—we just hate it when we have to exert considerable force just to tweak volume or wake the screen.
Unless you're into the Spigen Neo Hybrid's looks, we'd suggest you go for the Crystal variant, as it's more secure in your hand and offers a window into HTC's designwork.
Spigen Rugged Armor
MSRP: $19.99
Dimensions: 3.00 x 5.91 x 0.48 in (76.2 x 150.1 x 12.2 mm)
Colors: Grey-ish Black
Part of Spigen's more affordable line-up, the Spigen Rugged Armor, despite its name, doesn't exactly inspire confidence against accidental drops. That said, upon closer inspection, we'd say it incorporate all the essential parts that, in tandem, will help you dodge a bullet when your HTC 10 has its inevitable meet-up with Mr. Concrete.
Made out of a single, flexible rubber-like material, the Rugged Armor is military-certified like other Spigen cases, and features its trademarked Air Cushion technology. More than that, the case adds a lip up front, offering some protection in case your phone hits the ground face-on.
Spigen Thin Fit
MSRP: $14.99
Dimensions: 2.94 x 5.84 x 0.45 in (74.7 x 148.3 x 11.4 mm)
Colors: Mint, Gunmetal
The most compact in the herd, the Spigen Thin Fit, as the name suggests, is aimed at those looking for
some
protection without the cost attached to really rugged solutions that add a ton of bulk. At $14.99, it's also the cheapest case on our list, and affordable enough for just about anybody—especially somebody invested in the flagship HTC 10.
In terms of construction, we're looking at a hard, plastic build that encases the HTC 10 from the sides, but not the top and bottom. The edges, at least, are protected, and so is the display—by a raised lip. Access to the power and volume keys comes cabrio style, meaning there's nothing covering these, so tactile feedback and travel times are as excellent as on a naked HTC 10.
Finally, in terms of ergonomics, we can't commend Spigen. The matte paint for the back of the case means it's on the slippery side, if not to an extreme. At $14.99, however, this drawback is stomachable.