HP's purchase of Palm a "waste" says Jon Rubinstein
18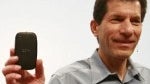 Jon Rubinstein was the star at CES 2009. Making the
introduction of the Palm Pre and webOS
, Rubinstein commanded the stage showing off the phone that everyone said was going to be a
strong challenger
to the Apple iPhone. Who could have predicted that the CES announcement would be the peak for both the Palm Pre and Rubinstein. By June, the Pre had a tepid launch and
Rubinstein was appointed CEO of a sinking ship
. 10 months later,
Palm was sold to HP
.
In an interview with Fierce Wireless, Rubinstein says that if he had to do it again, he would
not have sold
Palm to HP. Calling the sale "
a waste,
" Rubinstein said that HP never gave Palm "
a chance to flourish
." He also cited the deal that Palm had with Verizon as one of the things that he looks back at and wishes he could change in hindsight. Another thing he wishes he could change was the limited exclusivity that Palm gave to Sprint for the Palm Pre. According to Rubinstein, the company almost had deals with Verizon and Vodafone and was negotiating with everyone. Sprint gave Palm the best deal at the time.
Currently on the boards of Amazon and Qualcomm, Rubinstein said that while at Palm, he used to argue with the carriers about things that they wanted on Palm phones like their own address books. He notes how the industry has turned away from the carriers toward the manufacturers as the carriers have become nothing more than
service providers
. He also agrees with the notion that some of the multitasking features of iOS 7, which was introduced on Monday by Apple,
harkens back to webOS
. On Monday, we pointed out that Apple's new mobile OS allows you to view which apps you have open and close them with a flick upward that moves the app off the screen and closes it. That is exactly how web OS users would close an open app on that operating system.
source:
FierceWireless
Recommended Stories