Palm replaces Colligan as CEO with Rubinstein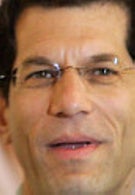 After watching over the launch of the Palm Pre smartphone, CEO Ed Corrigan has stepped down as CEO of the manufacturer after 16 years. Taking over the post starting Friday is former Apple whiz Jon Rubinstein, who joined Palm in 2007 in an attempt to save the company, which was being left behind in the smartphone market. Rubinstein, who was one of the designers of the Apple iPod, was one of the driving forces behind the new Palm Pre handset which was launched Saturday among much fanfare.
Colligan will be joining Elevation Partners, the investment firm that kept Palm alive until the Pre could be released, by throwing chiunks of cash at the company over the last two years. When the private equity firm started investing in Palm two years ago, it was instrumental in making Rubinstein Executive Chairman of Palm, a role that included leading the development of the device that is charged with the job of turning Palm around and making the firm relevant again. He also was instrumental in the design of webOS, the new operating system that is getting rave reviews.
source:
Market Watch