HP to reportedly focus on high-end tablets priced in "Apple iPad range"
22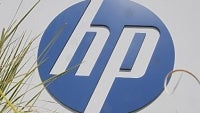 Ever since it launched the low-priced
HP Slate 7
in 2013, HP has been running a high-volume, low margin Android tablet business. Hoping that low prices would generate heavy sales and profits, the manufacturer has apparently decided to change its tactics. It ran what amounted to a liquidation sale during Cyber Monday in an effort to pare inventory of its low-priced slates. That includes the HP7 G2, the successor to the Slate 7 that is powered with a two-year old Android build (4.4).
HP has recently split itself into two companies, one for consumers and the other for the enterprise. It is taking this opportunity to build tablets for the "business mobility" market. David Coughlin, HP's president of Personal Systems, says HP's tablets will be built for field service, education, retail and healthcare. Coughlin's group has a margin of just 3%, and hopes to build that up by offering more expensive devices for the enterprise market..
While HP has basically sold out of its low-priced slabs, the tablets still available on its website are now priced in iPad territory. For example, two consumer tablets available are the HP Envy 8 Note, featuring an Intel Atom chipset, and powered by Windows 10. This slate uses a stylus controlled interface. Two versions of this tablet are offered at $329 and $429. The lowest priced Android flavored models are two variants of the
HP Slate 8
. These are 8-inch units with the Snapdragon 801 under the hood, and Android 5.0 pre-installed. The prices for the pair are $469 and $499.
"We are going to focus where there is profitability and growth and will not chase the low-end tablet market. We are focusing on business mobility to deliver tablets built for field service, education, retail and healthcare."-David Coughlin, President, HP Personal Systems
Combining both PCs and tablets, HP is the number three manufacturer in the world after Lenovo and Apple based on figures published by Canalys. That puts it ahead of Dell and Samsung. All five companies have seen shipments decline year-over-year in the second quarter of the year.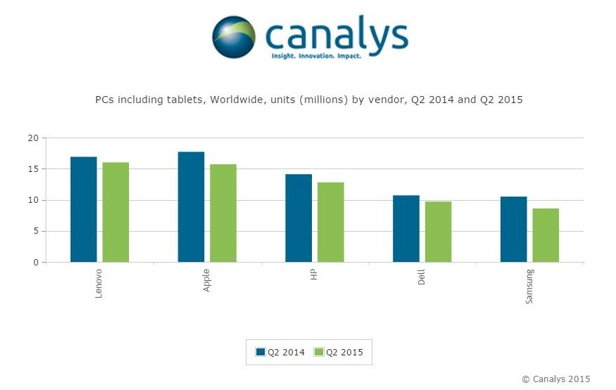 Combined tablet and PC shipments have been declining year-over-year
source:
AppleInsider