HP confirms Windows 8 tablet plans, webOS decision coming "in the next couple of months"
10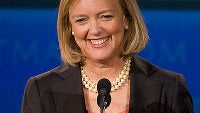 You might have already heard that HP has reconsidered spinning off its PC unit, but what could be even more interesting is that CEO Meg Whitman has confirmed that the company will make a Windows 8 tablet.
There aren't a lot of details about the upcoming Windows 8 slate, but if it arrives in the same time as Windows 8, that should translate into a release window in 2012.
"We're at the beginning stages of a new segment. I hardly think that we're too late, the work we're doing with Microsoft is extraordinarily compelling, ultraportables are compelling,"
HP's Todd Bradley added.
After the huge TouchPad firesales, expectations were that the webOS platform is getting officially killed, but Whitman didn't confirm that. Rather, she said that the company will unveil its plans in the next couple of months. Looking at the company's review of the PC spin-off, can we expect it to change its position on webOS? Chances are scant, but seem to exist.