HP Veer Hands-on
5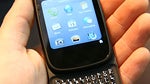 One of the tiniest smartphones in recent history has made an appearance here at MWC – we're of course talking about the
HP Veer
, the upcoming
webOS-powered
smartphone introduced hand-in-hand with the
HP Pre 3
and
HP TouchPad
a couple weeks ago.
Honestly, the Veer is one of the smallest handsets you'll be able to find on the market (once it is out), so if you're on the lookout for a compact, but still highly-functional smartphone, the HP Veer looks to be a very strong contender. Naturally, from the day of its announcement we were wondering if its
2.6" capacitive
screen would be big enough to allow for comfortable usage, and now that we've gotten the chance to play with it some more, we can confidently say that the Veer is quite usable.
The second key feature of the device however – its slide-out
QWERTY
keyboard – has paid the price of the handset being that small. Not that the keys don't have a decent feedback or something, but it's just that they are too small to be pressed conveniently and without issues. If you are a speedy typing person, you'll probably encounter a lot of accidental mistakes with the HP Veer's QWERTY keyboard, so you'll have to slow down a bit, should you side with this compact marvel.
Apart from that, the webOS platform is running very smoothly on the device with no hints of lag, allowing you to take advantage of all its goodies like card-based multitasking, Just Type, capable browser, etc.
The HP Veer is expected sometime during the
first half
of the year for all of us petite lovers.