HP Pre 3 stars on The Following
6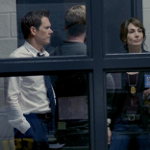 The last time we saw the
HP Pre 3
, it
was being sold on eBay
around
the time that it was supposed to be selling at US.carriers
. By the time the calendar reached the date of its expected U.S.launch, the model was canceled. The HP Pre 3 was the phone that was supposed to take the Pre into the modern world of larger screens and faster processors, a world that it missed while Android was setting the bar higher. The device had a 3.58 inch screen, which would be
puny
by today's standards. The WVGA resolution on the display left it with a
pixel
density of 261ppi, not bad for the time. A single-core 1.4GHz processor was under the hood and 512MB of RAM was on board with 8GB of native storage. The 5MP camera on back captured video at 720p and we shouldn't forget the .3MP front facing camera. A 1230mAh battery helped keep the lights on.
The Following
. Now to be honest, we really haven't had much of a chance to see the show since we usually spend all day and night hunched over a hot keyboard, just for you. But if you're wondering why the show would use the Pre 3, we might have some answers. They probably are cheap to buy and it would seem that none of the big manufacturers were interested in shelling out for
product placement
. By using the HP Pre 3, a defunct and obsolete phone, the movie gets a cellphone that it needed for the scene and a current handset doesn't get tons of free publicity.
We should note though, that the HP Pre 3 joins the list of actors that are six degrees of separation, or closer, to Kevin Bacon. The one-time Footloose star (there's a name older than the Pre), is one of the stars of the new series.
source:
Fox
via
webOSNation