Guy uses app to pretend he's a cop and gets busted by the real thing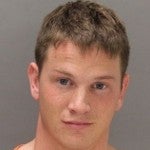 20 year old Alexander A. Welch used an app on his Verizon phone that flashes a blue and red light to try to convince other motorists that he was the police. Flashing the lights, he managed to get one driver to pullover. Welch followed behind, briefly stopped his car, and drove away. This unusual action alerted the driver who followed the suspect's vehicle and called the cops.
Police eventually found Welch's car and pulled him over. While talking to him, the cops discovered the app on his phone that produces the red and blue colors and immediately arrested him. He was charged with the felony crime of unlawful exercise of the function of peace officers which is punishable by up to five years in prison. The police report didn't specify which model phone Welch used except to say that it was a Verizon model. Sounds like Alex would have been better off getting addicted to Angry Birds like everyone else.
source:
IdahoStatesman
via
Gizmodo