Gunnar Optiks hands-on
5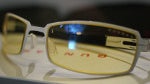 It's happened to all of us at one point or another. You know what we're talking about! After an intense gaming session on your smartphone/tablet, or surfing the web endlessly, your eyes feel extra fatigued after all of that work. Sure, it's never good to do the same thing for a prolonged amount of time, which can result in some eye strain, but there's something that can shield and protect them from the light emitted from our favorite gadgets.
Enter
Gunnar Optiks
, a gaming centric eyewear company that manufactures a wide range of stylish glasses that are worn to prevent eye strain, fatigue, and can even improve detail and focus in what you're looking at. Right away, we can instantly see the resemblance of the Gunnar Optiks glasses with many of the other specialty sporty style sunglasses makers out there. However, they're able to differentiate their variety (mostly), since their
lenses have a distinct yellowish hue
to them.
Lightweight and soundly strong
with their construction, the Gunnar Optiks glasses are pretty
comfortable
to wear. Even though we're unable to check out how effective they are when it comes to reducing eye fatigue and stress, since we'd need to log in some extravagant time using our devices, we do notice how it's able to
sharpen and enhance clarity
with what we're looking at. It's not something drastically improved, but it essentially casts enough of a contrast to deliver some sharp visuals.
Ranging in styles and prices, which can go anywhere between
$100 and $200
, the lens, coatings, and curvature of the Gunnar Optiks glasses aid to combat strenuous things to the eyes – such as fluorescent light, glare, and ambient air.