Got the new iPad? Here's how to best brag about it
34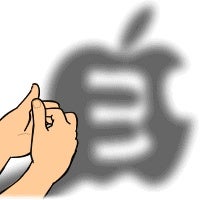 It's Friday, but not just any Friday - today is the day the
iPad hits stores early in the morning
: 8:00am local time to be exact. So, for many of you, today will be the day when you can share your newly found joy with the world. You want people to notice - you have the new iPad.
Apple, though, hasn't made it easy for you. The new iPad looks almost exactly like the old one in outward appearance, so you have to think of some innovative ways to make it clear that you're done with the past. Emphasize you're a step forward, rub it in iPad 2 owners noses. Okay, we kid, but you get the idea.
Nitrozac & Snaggy from The Joy of Tech used their creative brains to take on the immense task of revealing the best ways for you to show off. It's all hilarious, all below and you can try it yourself today. You think you can do better? Feel free to share your ways of showing you've Apple's latest and greatest to the world in the comments below.