Google releases four new ads for Android 5.0
16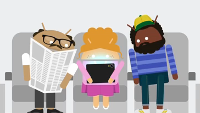 With Android 5.0 arguably the most important release of Android ever, Google has been taking to prime time television to run a series of ads for its open source OS. Four new spots have been released. The first spot is called
Android: Garage Band
, and shows a band playing a number while being recorded. A little bit of Pete Townsend lives inside one of the band members, who knocks over a camera by mistake. The ad's tag line? "
awesome cams for awesome jams
."
Next comes
Android: Slightly Longer Road Trip
. This ad features an RV packed with some odd beings. The van stops to pay a toll, and let's just say that there is now an opening for a toll collector somewhere in Oddsville The next video focuses on smartwatches. Called
Android: Break Room
, this spot shows the folly of looking at your smartwatch while having a beverage in the same hand. Note that two of the characters are wearing a square faced smartwatch like the LG G Watch, while another is wearing the LG G Watch R or the Motorola Moto 360.
The last spot is called
Android: Scary Movie
. On an airplane, three people are watching a movie by looking over the shoulder of a tablet user. They are all watching what is apparently a horror movie, since they all jump in fright at the same time. The tag line reads, "
bigger screens for bigger screams
."
Do these spots make you want to buy an Android powered device? Checkout all four ads by viewing the video slideshow below.
source: Android (
1
), (
2
), (
3
), (
4
) via
BGR