Google's NYC pop-up store is giving away ugly phone sweaters and Pixels
8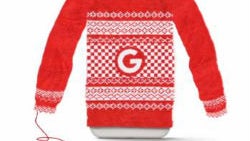 Ugly holiday sweaters have had a renaissance recently for ... odd reasons (mostly comedy or irony) and Google apparently feels that smartphones have been left out in the cold for too long, so it has taken it upon itself to bring ugly sweaters to the smartphone crowd, at least in a small way and only for those in the New York City area.
Starting tomorrow, December 17th, through December 23rd the NYC Made by Google pop-up store is running a promotion that sounds pretty cool. If you visit the store any one of those days between noon and 6pm, Google says "you'll have the opportunity to take home a sweater-shaped cookie, a Pixel-sized sweater, a human-sized sweater, a Pixel phone, or a combo of all these items." It appears as though the promotion is only open to those who own Pixel phones, but the fact that Google is also giving away Pixel phones makes that part of it a bit murky.
The store has a knitting machine on hand to make the phone-sized ugly sweaters (though maybe not the human-sized ones). Either way, it's a really interesting idea and we'll definitely be keeping watch. You can also follow the fun on Google's official Snapchat account. If you're in the NYC area, you can visit the Made by Google store at the corner of Mercer and Spring in SoHo.
It's sweater weather in NYC. Follow us live @Google on Snapchat to get knit at our #pixelsweater pop-up. ❄️ pic.twitter.com/X4v2o3PY2u

— Google (@Google) December 16, 2016