Asus rumored to be the hardware partner for the Nexus Tablet
23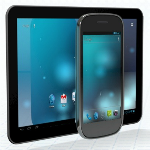 We don't want to pat ourselves on the back too much, but just last week we did
an in-depth piece
on not just which hardware manufacturer is most likely to be Google's partner for the Nexus tablet, but which manufacturer should be chosen for the job. In that piece, we singled out Asus as the most deserving for the Nexus tablet job, and it looks like we might be right.
As of now, it is still just a rumor, but word has it that Asus actually is the hardware partner for Google's
upcoming $199 Nexus tablet
. The new comes second-hand from the founder of Android and Me, Taylor Wimberly, who says that two trusted sources told him at Mobile World Congress that Asus is the hardware partner for Google on this project.
If Taylor trusts the sources, we have no reason to doubt that they believe it to be true. Of course, we don't know exactly who the sources are, or where they got their info, so we have to file this as an unsubstantiated rumor at this point. But, with Google I/O just under 4 months away, we should have confirmed info soon enough.