Google's Android chief Sundar Pichai reportedly in negotiations to be Microsoft's CEO (or not)
23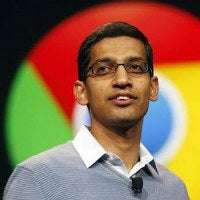 There have been some pretty big names on the move at Google this past year including
Hugo Barra
leaving the company for Xiaomi and
Andy Rubin
stepping down as chief of Android and being replaced by Chrome chief Sundar Pichai. Now, word has it that Microsoft may be trying to woo Pichai away from Google to be the new CEO in Redmond.
A few days ago, we heard that the top internal candidate at Microsoft was Satya Nadella, and it sounded as though it was close to a done deal that Nadella would be taking over the gig. Now, it turns out there is an outside candidate that is in negotiations with Microsoft about the position: Google's Android chief Sundar Pichai. Word has it that negotiations "are in full swing" between Pichai and Microsoft's hiring committee.
Pichai has also been rumored for high level positions at other companies including Twitter, and sources are saying that Google has offered Pichai $50 million to stay at Google. Pichai is regarded as the driving force behind Google's push to gain control of Android recently, including greater integration of Google Play services, and even the
deals
with
Samsung
.
*Update* According to
Re/code's
Kara Swisher, these reports are not true. Swisher claims that her sources at both Microsoft and Google are denying that Pichai is a candidate and she is saying "definitively" that Pichai is not a candidate for the CEO position at Microsoft.