Global patent agreement reached by Samsung and Google
18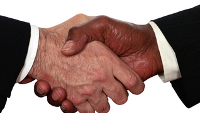 Sunday afternoon, Samsung announced that it had reached a global cross-licensing agreement. But instead of this covering the Korean manufacturer's arch rival Apple, the agreement covers patents owned by Samsung and Google. The deal covers the current patent portfolio owned by both firms, as well as any new patents received by either company over the next five years.
For those who were afraid that Samsung was gradually breaking away from Google and its open source Android OS, both parties said that the pact "
would lead to deeper collaboration on research and development of current and future projects
." In a statement surely intended for Apple's ears, Samsung's top patent executive, Seungho Ahn, said that the agreement shows that it is better to cooperate than to engage in patent disputes. Samsung and Apple are expected to kick off their next patent trial in March although
both sides are said to be discussing a settlement
.
Financial terms of the deal between Samsung and Google were not released.
"By working together on agreements like this, companies can reduce the potential for litigation and focus instead on innovation."
-Allen Lo, deputy general counsel for patents, Google
"(The deal shows) the rest of the industry that there is more to gain from cooperating than engaging in unnecessary patent disputes."
-Seungho Ahn, Head of Intellectual Property, Samsung
source:
Reuters