Google wins one for open standards: Microsoft to adopt DAV
57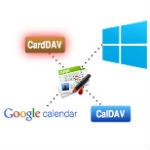 This one was something of a mess. It started just before the holidays, when Google announced that it would be stopping
Microsoft Exchange ActiveSync
support for new free users, and would only accept new paid enterprise users for support.
Microsoft was surprised
by the move, and lashed out, but now the tech giant is yielding, and will adopt the DAV open standard.
Without Google Sync, which took care of the Exchange ActiveSync, there were fears that Windows Phone users would have big trouble with Google accounts. It's unclear if this is true or not because Google said the service would remain intact for existing users. But, at the very least, new Windows Phone users would have troubles, because while Gmail would remain unaffected, Google Contacts and Calendar would cease to sync.
Google had given Microsoft 45 days notice, saying the support would be removed on January 30th. Microsoft asked for a 6 month extension to work on CalDAV and CardDAV support, but Microsoft claims that Google has been "largely unresponsive" to Microsoft's questions and requests. But, there are also reports that Google had privately told Microsoft about the pending change in the summer of last year, so Microsoft would have had about 6 months to work on fixes.
Either way, we're only a week away from finding out just how troubling the change will be for Windows Phone users. In the meantime, Microsoft has said that it is working to add support for CalDAV and CardDAV, but there is no word on a release window for the update.