Google: we'll reimburse those who got the overpriced Pixel 2/XL at our pop-up stores
5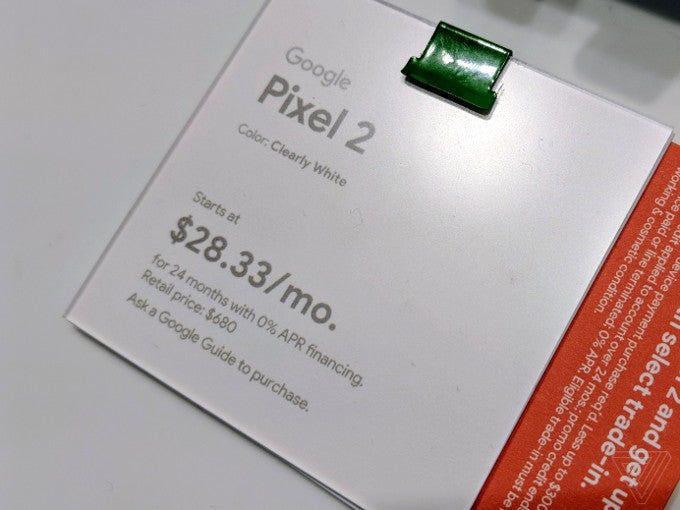 Clearly white, clearly expensive
Along with the
Pixel 2
and
2 XL
announcement, Google said that it will set
pop up stores
in high-visibility and high-traffic areas as Manhattan to showcase and sell the new gear. Apple has its
Town Squares
Stores, Samsung has its
Experience
pop-ups in Best Buy, and
Microsoft
used to set temporary exhibits when it was high on Lumia, too.
Needless to say, Google delivered on that promise, and had the Manhattan store up and running yesterday for the official Pixel 2 launch date. Shop patrons, however, quickly noticed that the prices of the Pixel 2 and Pixel 2 XL are all jacked up $30 more than the
official MSRP
that Google has listed online in the Play Store. The lowest price was $680 for a 64 GB Pixel 2, the 128 GB one goes for $780, and the most expensive Pixel 2 XL did hit a $980 tag, placing it just shy of the upcoming
iPhone X
, for instance, and more expensive than a
Note 8
.
Google, however, was fast to notice and correct the "error," and has said in the following statement that it will cover the difference for those who bought Pixels form the pop-up stores yesterday:
This was an error, which is now fixed. Sorry for any confusion. We'll be reaching out shortly to reimburse those impacted.
There you have it. Being a vertically integrated hardware maker that Google inevitably is right now, after the
purchase of HTC's Pixel-making unit
, comes with its own set of challenges, some of which are new for the search giant, and mistakes are bound to happen on the way, so we wouldn't hold such marketing missteps against Google, especially is they are remedied quickly.