Google unveils Android Studio: new smart IntelliJ-based IDE
6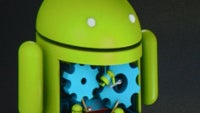 Google said its I/O conference will be hugely focused on developers and one of the best news for coders is a brand new Android Studio, an integrated development environment (IDE) by Google that is based on the IntelliJ platform.
It comes with a deep semantic understanding of Android, and with internationalization (i18n) built in the IDE so you don't have to hardcode i18n options but instead just refer to pre-built objects. It also comes with an absolutely brilliant layout editor showing you how your code looks on different form factors and screen sizes.
Android Studio comes with live code updates and even font changes are visible immediately. This - Google teases - is just scratching the surface.
"We have big plans for Android Studio — we plan to integrate more and more services."
Android Studio is definitely a big step forward for Google developers and shows that Google is not content with having that talk about Apple developers making more money than Android devs. That's one smart step toward changing that.
source: Google I/O