Google Maps AR navigation feature is now being tested
3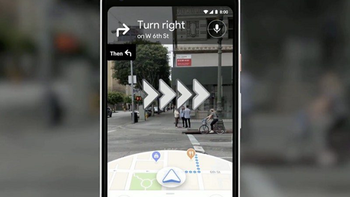 You might recall that during last year's Google I/O developers conference, the company announced a new feature for Google Maps that would improve the app's navigation for walkers. Using Augmented Reality and the rear camera(s) on your phone, the app will show you a real time look at where you currently are, with arrows overlayed on the screen telling you where to go. Right now, AR navigation for walkers is being tested by Local Guides, who are constantly using the app and reviewing it.

According to the Wall Street Journal
, which was able to test the feature, while searching for coffee shops and selecting one, a new "Start AR" button was spotted. Pressing on it, the app quickly switched to a real-time view and asked the phone's user to move the camera around in order to lock in his position. Once Google Maps knew exactly where the user was, the app matches up the view from the camera to Street View information stored on Google's servers. Following the hard to miss huge arrows takes the user and his/her legs to the correct destination.
Google says that the AR feature is not to be used while driving. The Googler who is the lead on the project, Rachel Inman, says that the Google Maps AR navigation is "for those moments like, 'I'm getting off the subway, where do I go first?'" And if you put the phone down for a second, the AR mode turns off to reveal the standard Google Maps UI. To prevent users from paying too much attention to the screen in front of them and having an accident, Google Maps reminds them to put the phone down. If the user fails to heed that advice, the screen automatically darkens. It also does this to prevent the battery from draining on a user's phone.
It might be some time before Google says that AR navigation is ready for prime time. But once it is, those requiring Google Maps for walking directions will be entering a new world where they can be given information about the places they are walking by. Those traveling by foot in a foreign country can use the AR navigation feature along with Google Translate to read signs in their primary language.