Google talking to carriers about Google Voice integration
4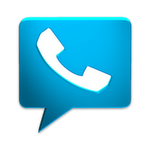 Google Voice is one of the killer products in Google's arsenal, offering a great range of options for filtering calls, handling multiple phones, texting and a web interface to complement what is offered in the Google Voice app. Unfortunately, there are two major issues with Google Voice: it can be a hassle to sign up/port your number, and MMS is unavailable.
Sprint is the one carrier so far to offer deeper Google Voice integration, making it easier to sign-up/port your number (and cheaper, as porting through Sprint won't cost you the regular $20 fee), and offering MMS-to-e-mail forwarding to effectively create an MMS system. Now, the Group Product Manager for Google Voice, Vincent Pacquet, has said that the company is "having discussions with other carriers about this".
This report falls under the same heading as the report saying Google is
planning to offer revenue sharing with Google Wallet
as an incentive to get on more carriers' devices. Of course, Google will offer revenue sharing, and of course Google will "talk" to carriers about getting more Google Voice integration, but there's no benefit for the carriers. Verizon, AT&T, and T-Mobile are all investing in ISIS, so won't be too willing to support Wallet, and similarly, those carriers make a lot of money on SMS/MMS add-ons, so why would they support Google Voice and hurt their own revenues? Sprint was willing to do it, because the company lives and dies on its "unlimited everything" plan, but until more customers are opting for the unlimited everything plans on other carriers, we wouldn't expect too much headway made on this for Google.