Google swung its mighty ban-hammer in order to clean up Swing Copters clone mess
16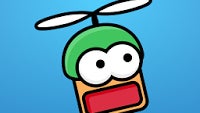 Swing Copters, the newest game from the maker of insanely-hard, viral game Flappy Bird,
was released on Android and iOS yesterday
. However, along with its release, the Play Store was flooded with hundreds of clones trying to leech off some of the original's glory. The problem was that these copies pushed Swing Copters so far back down that it was much more probable that users would download a clone, instead of the real thing. In fact, it happened to some of us here in the office, as the first search result did indeed display a game listed as Swing Copters, only to have its name revealed after download to actually be Copters Swing (magic?).
It seems Google does not approve, though, as it has now grabbed the mighty ban-hammer and started swinging at anything that has a googly-eyed character with a propeller cap on it. Reportedly, hundreds of titles were cleaned up and as a result – the original Swing Copter now proudly sits on top of the search results. If any of you were tricked into downloading one of the clones –
don't be very proud of your score
, since we found that some of them are much easier than the original game. Instead, head to the Play Store and get the one-and-only. And for future reference - Dong Nguyen posts his games on the Play Store via the .GEARS Studios name.
Download Swing Copters: (
Android
|
iOS
)
source:
The Guardian