Swing Copter now available to induce rage for Android and iOS users
13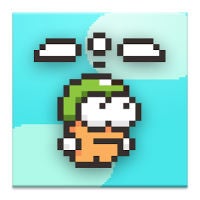 Have you had your rage break today? If not, Dong Nguyen has the solution to your calm. The follow-up to Flappy Bird, called Swing Copters, is now available in both the Google Play Store and iOS App Store. Fair warning though: if you hated Flappy Bird, you will be driven to possibly throw your phone into a brick wall after playing Swing Copters for just a few minutes.
teaser video
of Swing Copters recently, and it looks like our assessment of the gameplay was spot on. You are a weird little dude with a copter hat. Tapping initially will start your ascent, and as the character goes up, it will quickly swing to one side. Tap again to change directions, and attempt to stay between the swinging hammers. If the character hits anything at all, you die and the game starts over.
Flappy Bird was difficult, but this game is even worse. It is basically vertical Flappy Bird, but the copter moves faster than the bird, and of course there are the swinging hammers to deal with. The Flappy Bird pipes never moved, which left a tiny bit more on your margin of error. There is no room to make a mistake with Swing Copters. In the minor testing before writing this article, my top score was zero after about five attempts, then the game was uninstalled.
That said, if you were the kind of masochist who enjoyed Flappy Bird, you'll likely find enjoyment in Swing Copters as well. Right now, Swing Copters is free to download on both Android and iOS, but for some reason there is no in-app purchase to remove ads in the Android version. On iOS, if you want to kill the ads, it will cost your $1.29.